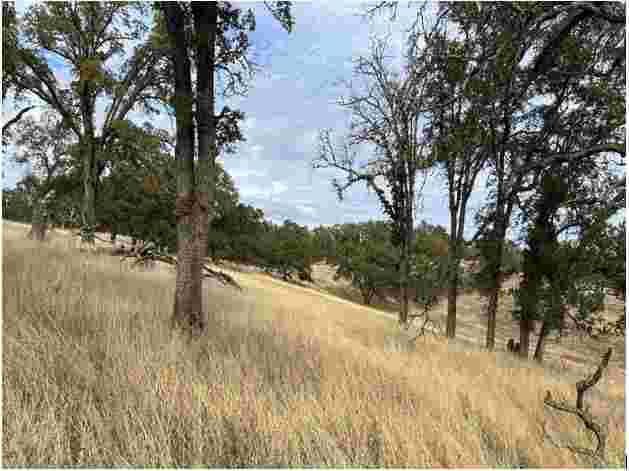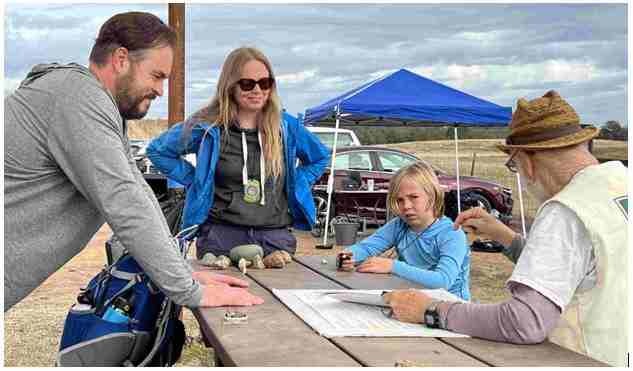 Dwight Freund giving beginner instructions
x
Deer Creek Hills
NRE A-meet
November 5th, 2023
Our biggest event of the year was blessed with really nice running weather, slightly overcast in the low 70's and very calm.
Over 100 runners came out to enjoy the unique Deer Creek Hills Preserve with endless oak studded rolling hills where cows grace and keep things open made for a very runnable event.
Nik Webers made the most of the terrain and served up seven courseand offered something for everyone.
Since this was a
National Ranking Event
, BAOC stepped up and let us use their electronic punch system, and Jeff Lanam and Rosemay Johnson, both of BAOC, volunteered to help us run the system, HUGE thanks to them both!
The 104 participants were a very good mix of serious runners, many from the Bay Area running mostly the Brown and Green course, and a lot of local recreational runners and families of all ages enjoying themselves on the slightly less demanding White, Yellow and Orange courses.
On the White course, Team Smokies Fan Club won large with a lead of 17:07.
The Yellow course was a tight race between Louise Madrid, Thor Sundstrom and Sarah Caulfield, with Sarah coming out on top in 45:57.
The Orange course was won by reltive novices Mark P and Rick G, just three minutes ahead of Team Fire.
Veterans Mats and Helena Hemmstrom took the top two spots on the heavily contested Brown course.
Francois Leonard narrowly beat out Olof Sundstrom on the Green course in a blistering 39:54, with both runner coming in under the 7 min/km mark.
Waynes Stats handled the red course in 1:20:58 for an easy win.
Finally on the Blue course, Carl Hoel took was the undisputed winner, needing only 1:08:31 to complete the 10.2 km course, or 6:43 min/km.
Results by course in the pdf-file here.
Results by class in the pdf-file here.
You can see the event map with the actual routes traveled by the competitive participants in RouteGadget for this event! How RouteGadget works is explanied in this link .
As always, these events are only possible with the help of volunteers. So BIG THANKS!!! to:
Jeff Lanam & Rosemary Johnson (E-punch)
Nik Weber (Course setter, start)
Roy Malone (Course vetter, tear down, control pick up)
Dennis Wildfogel (Sanctioning paperwork and support)
Sarah Williams (Online registration)
Ethan and Talbot Harty from Troop 633 (Setup)
Danny Lulla (Setup)
Rachel Freund (Parking, guidance)
Paul Keeton (Registration, insurance)
Dwight Freund (Parking, guidance, beginner instruction, finance)
Dan Rathbun (Permitting, start, reporting)
Tim Libell and Fiona Ryan (Start)
Mats Jansson (E-punch)
Ryan Zahner (Registration, tear down, control pick up, etc.)
Titus Libell (Tear down)
And to all of you who just pitched in where you saw a need!
Plus an EXTRA BIG thanks to Rachel Freund, Ryan Zander and Mats Janson who just came to just volunteer and didn't even run!
We hope to see you all at future events. And we really hope you'll consider volunteering!
The final GCO events for 2023 is the X-mas Old Town Folsom Scramble on 12/30. See details and links on our Schedule page.
By Jonas Libell
Event Director, etc.
Back to Results