Our Schedule
NEW schedule times!!! Registration for most GCO events opens at 8:30 a.m. and closes at 10:30 a.m. Starting times are assigned from 9 to 11 a.m. Beginner Instruction is offered as requested. Courses close at 1 p.m.
---
Our fees: $10 for each adult and $5 for each child or youth (ages 7-18) for non-members and $8 for adults and $4 for children or youths for members of GCO or other Orienteering clubs.
A second course is $2 per person. You can also rent a compass for $1.
---
We offer online registration for some meets! This will save you time, plus give us a better count for printing maps. Here's how it works:
You can register and pay for your first course of the event.
You can buy a GCO membership, for discounted event fees.
You can rent a compass.
If you register online, you also have to pay online, using a credit card.
To further help speed things along on the day of the event, our liability waiver is available during checkout.
If you sign up online, and make sure to complete all the information in the signup process, you will be able to simply walk up to the check-in table. No additional paper forms, no waivers; it's all done online.
NOTE: There will be NO online registration for the Nov. 11 meet at Mississippi Bar.
You can save time, particularly for groups, by filling out a Registration Form (left). Use ONE FORM for each individual or team going out together!!
PRE-REGISTRATION OPTION FOR GROUPS such as JROTC or Scouts with multiple teams. Contact the Event Director for each meet on the possibility of emailing your list of teams and courses a few days before the meet to save time.
---
2018
Abbreviations: W = White, Y = Yellow, O = Orange, Br = Brown, Gr = Green, R = Red, B = Blue, ED = Event Director. CS = Course Setter.
White and Yellow are beginner courses. Orange is intermediate. Brown, Green, Red and Blue are all advanced courses with varying lengths and physical difficulty.
All meets are tentative, subject to park approval!! Dates might be changed for various reasons, so always check here! Look for more details on the meets closer to the date.
Looking for other nearby orienteering meets? Check out Bay Area Orienteering Club (BAOC), terraloco. and Nav-X Challenge Map Treks.
---
Meets and Events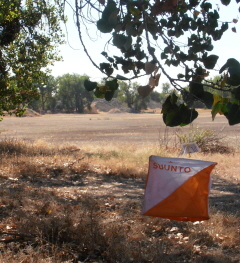 Sunday, Nov. 11, Mississippi Bar, Fair Oaks. Five-course B Meet; ED: Marsha Jacobs, , 916-408-8052; CS: Jonas Libell.
Join us for a fall meet at beautiful and frequently challenging Mississippi Bar. This state park (part of Folsom Lake State Recreation Area) is on the north shore of Lake Natoma. It has it all: oak woodlands, flat fast running areas and picturesque ponds. It also has river rocks in every form imaginable, all left over from the gold and other mining done many years ago. There are many cobble piles and rows, a very tall mountain of rocks and flatter rocky areas with lots of crevices and ditches.
Jonas Libell is working on the usual five courses. Details will be posted here soon.
Note: There will NOT be online registration for this meet. Participants, particularly those in large groups, can print out the Registration Forms and bring them to save time. Remember: ONLY ONE FORM for each team going out together, no matter the number of people.
Note the different schedule (NEW for this year):
8:30 - 10:30 Registration open
9:00 - 11:00 You can start your run during this time window
1:00 - You have to finish by this time
Here are details about Mississippi Bar and directions to get there. A Google map link is here.
---
Saturday, Dec. 8, Old Town Folsom Holiday Scramble. ED: Dan Rathbun, 530-919-3785; CS: Dwight Freund.

.