Our Schedule
NEW schedule times!!! Registration for most GCO events opens at 8:30 a.m. and closes at 10:30 a.m. Starting times are assigned from 9 to 11 a.m. Beginner Instruction is offered as requested. Courses close at 1 p.m.
---
Our fees: $10 for each adult and $5 for each child or youth (ages 7-18) for non-members and $8 for adults and $4 for children or youths for members of GCO or other Orienteering clubs.
A second course is $2 per person. You can also rent a compass for $1.
---
We offer online registration for some meets! This will save you time, plus give us a better count for printing maps. Here's how it works:
You can register and pay for your first course of the event.
You can buy a GCO membership, for discounted event fees.
You can rent a compass.
If you register online, you also have to pay online, using a credit card.
To further help speed things along on the day of the event, our liability waiver is available during checkout.
If you sign up online, and make sure to complete all the information in the signup process, you will be able to simply walk up to the check-in table. No additional paper forms, no waivers; it's all done online.
You can save time, particularly for groups, by filling out a Registration Form (left). Use ONE FORM for each individual or team going out together!!
PRE-REGISTRATION OPTION FOR GROUPS such as JROTC or Scouts with multiple teams. Contact the Event Director for each meet on the possibility of emailing your list of teams and courses a few days before the meet to save time.
---
2018
Abbreviations: W = White, Y = Yellow, O = Orange, Br = Brown, Gr = Green, R = Red, B = Blue, ED = Event Director. CS = Course Setter.
White and Yellow are beginner courses. Orange is intermediate. Brown, Green, Red and Blue are all advanced courses with varying lengths and physical difficulty.
All meets are tentative, subject to park approval!! Dates might be changed for various reasons, so always check here! Look for more details on the meets closer to the date.
Looking for other nearby orienteering meets? Check out Bay Area Orienteering Club (BAOC), terraloco. and Nav-X Challenge Map Treks.
---
Meets and Events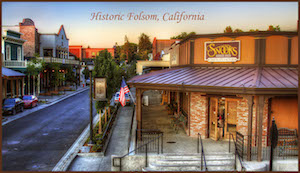 Sunday, Dec. 9 (NOTE: Change of Day and Time from Prior Years and earlier schedule!), Old Town Folsom Scramble (Score-O). ED: Dan Rathbun, 530-919-3785; CS: Dwight Freund.
Please come and launch your Holiday Season at GCO's last meet of the year, the Fifth Annual Old Town Folsom Scramble. The setting of the course is mostly urban—scenic and historic Old Town Folsom—with controls in town and inside the substantial park areas on both sides of the American River.
Your course-setter-cum-mapper had intended to expand the map to Negro Bar this year, but circumstances didn't permit. The map has been updated to show additional trails, some public routes through buildings, and new out-of-bounds areas due to construction. Please remember to be considerate of residential properties; although not explicitly mapped as out-of-bounds, they of course are exactly that, and entering them is trespass.
As usual, the format will be Scramble, formerly known to us oldsters as Score-O. Registration will begin at 9:45 a.m., and there will be a mass start at 10:30 a.m., so arrive on time. Participants will be given a map with numerous control locations and a fixed time limit of 90 minutes to visit as many as possible controls, in any order, before returning to the start within the time limit.
Ten points are awarded for each location found; wrong answers will be penalized as guesses and minus-10 points "awarded;" five points will be deducted for each minute overtime.
Start and finish will be at the same location as last year: the southeast corner of the downtown parking garage, near the ice-skating rink and the light rail station; outside if nice weather, otherwise just inside the parking garage (where parking is free). The parking garage address is 905 Leidesdorff St.
Hazards: There will be little-to-no off-trail running, so Poison Oak will not be a problem. I'd worry more about cars when crossing streets, however, and bikes on the bike trail. If you get off-course and end up in the zoo, be on the lookout for lions, wolves and bears. Also, Karens Bakery (the best in the Sacramento area) is a definite hazard for those on a diet.
Weather permitting, please stay for an exciting talk by our own world-renowned Adventure Racer Dan Rathbun (also the Event Director), who will regale us with stories of being dropped into the middle of tropical jungles armed only with map, compass and pocket knife (and sometimes not even that!) The talk will be held at the outdoor theatre on the east side of the skating rink immediately after the race concludes at noon.
There will be a separate notice about the also-traditional post-scramble holiday pizza-party for club volunteers to be held downtown at about 1 p.m. It is by invitation and RSVP only.
Note: This event will take place rain-or-shine, but check this site on the day-of just-in-case if it's really stormy.
Dwight Freund, Course Setter
A Google Map to the parking structure is here. A link to Historic Folsom information is here.