Our Schedule
Registration for most GCO events opens at 9 a.m. and closes at 12 noon. Starting Times are assigned from 10 a.m. to 12:30 p.m. Beginner Instruction is offered as requested. Hint: Come anytime between 9 and 11 to have time for instruction and a course.
---
Our fees: $10 for each adult and $5 for each child or youth (ages 7-18) for non-members and $8 for adults and $4 for children or youths for members of GCO or other Orienteering clubs.
A second course is $2 per person. You can also rent a compass for $1.
---
We offer online registration for most meets! This will save you time, plus give us a better count for printing maps. Here's how it works:
You can register and pay for your first course of the event.
You can buy a GCO membership, for discounted event fees.
You can rent a compass.
If you register online, you also have to pay online, using a credit card.
To further help speed things along on the day of the event, our liability waiver is available during checkout.
If you sign up online, and make sure to complete all the information in the signup process, you will be able to simply walk up to the check-in table. No additional paper forms, no waivers; it's all done online.
You can save time, particularly for groups, by filling out a Registration Form (left). Use ONE FORM for each individual or team going out together!!
PRE-REGISTRATION OPTION FOR GROUPS such as JROTC or Scouts with multiple teams. Contact the Event Director for each meet on the possibility of emailing your list of teams and courses a few days before the meet to save time.
---
2018
Abbreviations: W = White, Y = Yellow, O = Orange, Br = Brown, Gr = Green, R = Red, B = Blue, ED = Event Director. CS = Course Setter.
White and Yellow are beginner courses. Orange is intermediate. Brown, Green, Red and Blue are all advanced courses with varying lengths and physical difficulty.
All meets are tentative, subject to park approval!! Dates might be changed for various reasons, so always check here! Look for more details on the meets closer to the date.
Looking for other nearby orienteering meets? Check out Bay Area Orienteering Club (BAOC), terraloco. and Nav-X Challenge Map Treks.
We are including in our schedule below some of the closer six-event Nav-X Challenge Map Treks. Last year, GCO was one of the sponsors of this series, along with BAOC and terraloco. This year, Nav-X is becoming a nonprofit club, part of Orienteering USA. Check out the
---
Meets and Events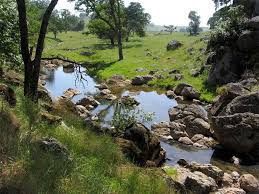 Deer Creek Hills
Saturday, March 17, through Sunday, March 25, 2018, COW 2018 or California Orienteering Week, seven national events over nine days.
GCO and BAOC are co-sponsoring this week with four events in the Bay Area and the final three on our terrain.
You can get the full schedule and all the details at the official COW 2018 website.
Advanced registration is now closed. There will be day-of-event registration for all events. Recreational courses will also be offered for White, Yellow and Orange only (but not Orange at Sierra College), at the standard BAOC or GCO fees paid on the day of the event.
Because these are national events, the five areas are embargoed. That means you cannot go to them if you plan to compete in the events.
Here is the brief schedule:
Saturday, March 17: Middle at Morgan Territory, near Livermore
Sunday, March 18: Middle at Morgan Territory
Monday, March 19: Middle at Point Pinole, near Richmond
Wednesday, March 21: Middle at Mills College, Oakland
Thursday, March 22: NOT A MEET, but a do-it-yourself training event, Sacramento Bar, Fair Oaks
Friday, March 23: Sprint at Sierra College, Rocklin
Saturday, March 24: Long at Deer Creek Hills Preserve, Rancho Murieta
Sunday, March 25: Middle at Deer Creek Hills Preserve, Rancho Murieta
Note: For full information on the first four BAOC-run events, go to official COW 2018 website.
For the GCO-run training event and the final three meets, you can go to the official site, or see details here. Jump to training event. Jump to Sierra College. Jump to Deer Creek Hills.
Tip: To quickly get essential information about the California Orienteering Week, install the free Eventbase app on your iPhone, iPad or Android phone or tablet. Then click the magnifying glass icon and search for California Orienteering. You can get the event schedule, maps to the venues and even make personal notes such as start times for each event. The event information stays on your phone, so you will still have it without internet access, and gets updated when the app can connect to the internet.
The three GCO meets are our first National Events, sanctioned by Orienteering USA. The Event Director for those is Mats Jansson, , 916-220-0224; the course setters are Matias Arola for Sierra College and Bill and Heidi Cusworth for Deer Creek Hills.
Do-it-yourself training event, Sacramento Bar, Thursday, March 22
Most orienteering maps in Sacramento are located within the American River Parkway that starts at Folsom Lake and runs 26 miles to the West to close to downtown Sacramento, where the American River empties into the Sacramento River. Sacramento Bar, like much of the Parkway, was turned upside down by extensive placer gold mining. The area is dominated by dredge tailings (small or large, but always steep cobble piles, steep depressions and hundreds of knolls), many semi-open grass areas with scattered (oak) trees and shrubs, many dense areas with blackberries, seasonal marshes and quite a few trails. This is all very different from the Deer Creek Hills Preserve so this is clearly a training event, not a demo event.
Getting there: From US 50, take the Sunrise Boulevard off-ramp. Head north to Fair Oaks Boulevard. Make a left on Fair Oaks, then an immediate left onto Pennsylvania Avenue. The entrance is at the end of Pennsylvania Avenue, just past Magnolia Street.
Hours: The park is open from sunrise to sunset.
Parking: Parking costs $5. Please fill out an envelope at the entrance, tear off the tag, place the money in it, seal and put the envelope in the collection box. Checks are okay.
Course notes: The courses, on PDFs, are from our 2016 meet, with some minor changes. You can print them out or download them onto your phone. There will not be maps at the site.
Orange, 3.6k, 10 controls
Brown, 3.5k, 11 controls
Red, 5.5k, 18 controls
All Controls, 27
Start and Finish: Picnic table area by the parking lot
Controls: Pink streamers, no punches
Map Scale: 1:7,500
Map age: The map was partially updated for 2018 after some flooding in 2017
Open with trees: The light yellow shade used on much of the map indicates "open land with some trees." Only distinct and separate (and typically large) trees have been marked as single (or dead) trees. Bushes are marked as green dots or dense areas if they are distinct and affect runnability.
Vegetation: There is fresh and potent poison oak in some shady locations. It's still rather low and doesn't have all the leaves. Keep your eyes open! Poison oak has been marked on the map with a red grid in a few locations close to controls.
There are no Star Thistles this time of the year and only a few thorns or burrs to deal with. (Yay, gaiter free!)
Narrow rides: (Long, thin trail lines.) These are mainly former training walls or mining roads that are graded and often less than 8 feet wide. Lack of recent traffic may mean there is no real trail left. But at least the ground is still level and the outline can be followed.
Small trails: There are many narrow deer trails that aren't mapped.
Steep slopes: Lots of hills, knolls, and depressions were created by digging in the gold-mining era.
Consequently they often have steep sides with loose rocks.
Cobble fields: Be careful if you are not used to running or walking on cobbles:
Run with a short stride and a light step.
Trail running shoes with rubber cleats give best grip.
SARA Closure: The western part of the map marked as Out of Bounds is closed to events. This is a result of SARA (Save the American River Association) suing Sacramento County for providing too much recreational access to the Parkway. SARA wants to limit sporting events in the Parkway to 1960's levels.
Hints for racing:
There are legs with multiple possible routes worth evaluating.
Dark green is typically blackberry brambles and is impassable, medium green can be penetrated, light green can be walked through.
White passages through green areas that are obvious route options have been checked recently.
Many hard-to-pass terrain features makes running off a compass bearing slow and inexact.
Grey means cobble fields. The visibility is great but it's hard to run fast here.
Stop by the river and enjoy the scenery!
Jonas Libell, GCO
Sierra College, Friday, March 23
Here is the schedule for Sierra College (quite different from our usual meets):
Registration open: 12:30 to 2 p.m.
Beginners Clinics: 1 to 1:30 p.m.
Recreational course starts: 1 to 2 p.m.
Stage 5 (preregistered national event participants) start window: 1:30 to 2:30 p.m.
Courses close: 3:30 p.m.
Here are Event and Course notes from Dwight Freund:
Welcome, Orienteers, to the low foothills of the Sierra Nevada mountains. Friday's course is a typical urban sprint course, to be held at the main campus of Sierra College, just off I-80 on the northeast outskirts of the Sacramento metropolitan area. This is a relatively flat and compact map, and courses will frequently cross each other and themselves. There will be no water on these short courses, but please feel free to carry your own. Light refreshments will be provided to finishers. Restrooms are in the theatre building next to the assembly area; please use the south entrance only.
Map notes: The map will be printed at a scale of 1:4000 with 2.5m contours. The typically urban vegetation is generally runnable, with only one small patch being out-of-bounds. The swimming pool and corporation areas are likewise marked as out-of-bounds (olive color on the map).
The campus is littered…erm, decorated…with student artwork and statues. The larger of these are marked with the black O (man-made object) symbol, while the black X is used for the usual sorts of man-made objects.
The map uses the International Specification for Sprint Orienteering Maps (ISSOM). There are significant differences in the symbols used and in their meaning from a "regular" orienteering map. Lack of familiarity with these differences can lead to confusion or disqualification. You can find the details of this Specification on the web. Please be sure to familiarize yourself with it.
Course Statistics: Courses were set by Matias Arola, with the assistance of Dwight Freund. Climb is essentially negligible on all courses.
Course Controls Length
White/Yellow 14 1.5km
Orange 12 1.8km
Brown 13 2.0km
Green 16 2.4km
Red 17 2.7km
Blue 21 3.1km
Of Special Interest: For a real treat we encourage participants to visit the lobby of the science building (bldg. S, located just west of the theatre building) after completing their courses (easily accessible from parking lots D&E). The entire lobby area and some halls contain a fabulous natural history museum full of fossils and other interesting artifacts collected in the local area.  Additionally, other science museums send some unique pieces to Sierra College when they don't have room to display the items themselves.  No additional fees are required to enter this museum and the building is open until 10 p.m.
Here is information about Sierra College and directions to get there.
Deer Creek Hills, Saturday, March 24, and Sunday, March 25
Welcome to the foothills of the Sierra Nevada. You are, in a way, part of history here with many firsts:
This is the first time there has been an orienteering event at this venue (there was a map trek done in 2016 using the base map). This is the first time Gold Country Orienteers (GCO) is part of the California Orienteering Week. This is the first time GCO is part of hosting a National event. But we couldn't have done it without our friends out west, BAOC! And finally, this is the first GCO map (except urban ones) virtually free of poison oak!
We hope you will enjoy this place as much as we do. Follows important information to make your final days of COW smooth and enjoyable.
Schedule Saturday March 24:
Registration open: 9:00 AM to 11:30 AM
clinics: 9:30 AM to 11:00 AM
Start window: 10:00 AM to noon
Junior Team Sandwiches: 11 AM to 2 p.m. (see below)
Courses close: 3:00 PM
Saturday Courses:
Water
Course Length Climb Controls Stops
White 2.7 km 40 m 1.5% 12 1
Yellow 3.9 km 60 m 1.5% 11 1
Orange 5.2 km 130 m 2.5% 13 2
Brown 4.5 km 95 m 2.1% 14 3
Green 6.7 km 170 m 2.5% 17 3
Red 9.5 km 260 m 2.7% 22 3
Blue 12.5 km 295 m 2.4% 22 4
The courses are set to the IOF standard for Long courses, which emphasizes route choice and has a number of long legs. However, with the openness of the terrain, route choice will often be straight ahead. There are two mandatory gate crossings on the Green, Red and Blue courses. The Blue course will printed on two maps, both given at the Start, so there will be a map flip in the middle of the course.
Schedule Sunday March 25:
Registration open: 8:30 AM to 10:30 AM
Beginner clinics: 9:00 AM to 10:00 AM
Start window: 9:00 AM to 11:00 AM
Junior Team Sandwiches: 10:30 AM to Noon (see below)
Courses close: 1:00 PM
Sunday Courses
Course Length Climb Controls Stops
White 2.7 km 45 m 1.7% 12 1
Yellow 3.0 km 65 m 2.2% 13 1
Orange 4.2 km 90 m 2.1% 16 1
Brown 3.6 km 90 m 2.5% 16 1
Green 4.8 km 145 m 3.0% 20 1
Red 5.3 km 145 m 2.7% 20 2
Blue 5.8 km 165 m 2.8% 22 2
The courses are set to the IOF standard for Middle courses, which emphasizes technical challenge and has a number of short- to medium-length legs with changes of direction, but not much route choice. There is almost no overlap in terrain with Saturday's Long courses, except on White. Controls have been placed very close together in some areas, so as usual, check your codes! There are two mandatory gate crossings on the Orange, Green, Red and Blue courses.
Mobile phone coverage: There is pretty good cell phone coverage throughout the preserve.
Other Park Users: We do not have exclusive access to the preserve. On Saturday, March 24, the Sacramento Valley Conservancy (SVC) is hosting self-guided hikes, and one of the other SVC partners, REI, will be having about 10 people out for an outdoor clinic. Please be respectful to these other users if you encounter them on the course.
Special Liability Forms: We are required to collect a separate Release of Liability from all participants. These forms will be available at the Start location (less than 200 yards from the assembly area). NOTE: Minors need to get a parent/guardian signature, so we will have forms available at the recreational registration desk (in the assembly area) so that parents/guardians don't need to join their minor at the start location. Please make sure your minor brings their signed form with them to the start.
Directions: From Sacramento: Take Highway 50 to the Bradshaw Exit, turn right (south) onto Bradshaw, turn left (east) onto Jackson Road (Highway 16), continue east, past the Dillard Road light and turn left on Latrobe Road. Follow this past Scott Road to a severe right turn onto Stone House Road. Do not make this turn, but rather travel straight onto a dirt road, the continuation of Latrobe Road. Travel approximately one mile to the Eagle Camp Corral. This part of Latrobe is rocky and rutted. See more information below under Parking.
From Folsom: Take Highway 50 to Prairie City Road Exit. Turn south onto Prairie City Road. Prairie City Road will dead-end into White Rock Road. Turn left (east) onto White Rock Road and travel about one mile. Turn right (south) onto Scott Road. Scott Road will dead-end into Latrobe Road. Turn left (east) onto Latrobe Road. Travel a short distance to a severe right turn onto Stone House Road. Do not make this turn, but rather travel straight onto a dirt road, the continuation of Latrobe Road. Travel approximately one mile to the Eagle Camp Corral. This part of Latrobe is rocky and rutted. See more information below under Parking.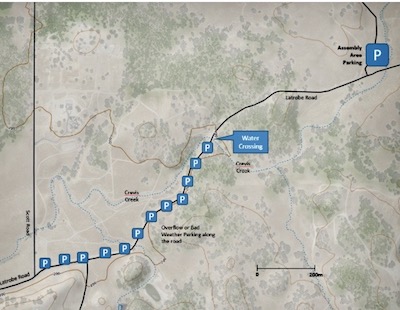 Parking Along Latrobe and Crevis Creek
Parking: Getting to the Assembly Area (refer to map):
NOTE: DUE TO UNCERTAINTY ABOUT CREVIS CREEK PASSABILITY LEAVE EXTRA TIME TO GET HERE!
If people carpool, we might be able to fit most of the cars right near the assembly area (the big P on the map). But more than likely, late entrants or possibly cars with low clearance (read more below) will need to park along Latrobe Road where it is wide enough to still support traffic (use your judgment, if a parking attendant is not available).
For people parking along Latrobe Road, the walk to the assembly area will be between 0.5 and 1.0 miles. Therefore, we will have a van shuttle taking people who need it to the assembly area from along the road in the morning, and the reverse in the afternoon. Some of the specifics depend on the water level in Crevis Creek, which runs across (not under!) Latrobe Road, and it changes daily during wet weather. Here are the different scenarios, and event staff will be in place to direct people as needed:
If Crevis Creek is passable by all cars: In this scenario, cross Crevis Creek ON THE LEFT/NW SIDE where it is the shallowest, and proceed to the assembly area parking). When the assembly area parking is full, staff will ask people arriving to park along the road and either walk, or catch the van to the assembly area.
If Crevis Creek is passable only by high-clearance vehicles: In this scenario, if you have a high-clearance vehicle, cross Crevis Creek ON THE LEFT/NW SIDE where it is the shallowest, and proceed to the assembly area parking. If you don't have a high-clearance vehicle, or when the assembly area parking is full, staff will ask people arriving to park along the road and either walk, or catch the van to the assembly area.
If Crevis Creek is NOT passable by any vehicles (very unlikely): In this scenario, staff will ask people arriving to park along the road and either walk, or catch the van to the assembly area.
Saturday Night Dinner: Dinner, for those of you who reserved dinner, will be at BJ's Brewery and Restaurant in Folsom at 2730 E. Bidwell St., Folsom. Dinner is at 5:15 PM. Salad, 4 types of pasta, 4 types of pizza, non-alcoholic beverages (BRING CASH IF YOU WANT BEER OR WINE), vegetarian options. NOTE: If you reserved dinner and must have vegan or gluten free, inform your server when you arrive, and we will try to accommodate.
Sandwich Fundraiser: The Junior National Program (NJP) will offer sandwiches on both days. Grab lunch after your run by visiting the NJP Junior Team desk in the assembly area where you will be able to make your own sandwich whether you are a carnivore, omnivore, or herbivore. This is a fundraiser for the team. Find out more and "reserve" your sandwich here. You may still be able to get one even if you don't reserve, the form is mainly so that the junior team knows how much food stuff to buy. Reserve your sandwich by Wednesday, March 21.
Course Notes for both days (by Heidi and Bill Cusworth):
Deer Creek Hills is a wonderfully open area, mostly wide open grazing land with large oak trees, with no poison oak or thick vegetation. It's probably the nicest terrain that we've encountered in the state of California. At this time of year, the grass is green and short, the oak trees don't yet have leaves, and the ground is soft. Visibility is very high, and the courses will be fast. Deer Creek Hills is an open-space preserve managed by the Sacramento Valley Conservancy, and open to the public for special events only. It's used primarily as grazing land for cattle. The area was used once before for a 4-hour Nav-X Map Trek event in autumn 2016. The area used for this event will be a small portion of the whole area, where there is a bit more forest.
General Course Information:: The Finish will be in the Assembly Area (the corral) both days. In fact, the Start, Finish, first control, and last control, will be exactly the same for both days. The distance to the Start from the Assembly Area is 180 meters, with 5 meters of climb. All the courses on both days will start with the exact same first leg, a 180-meter run along a road to a road/trail junction in lieu of a run to a start triangle. There will be two E-punch units at this first control, and also two E-punch units at the last control.
The warm-up area for the event is located along Latrobe Road, west of the Assembly Area. There is very little normal vehicle traffic on Latrobe Road, so the majority of the vehicles on the road will be orienteers.
Notes About the Map: The map is based on the ISOM 2000 standard with the exception of form lines, which are based on the ISOM 2017 standard and are a little thinner than the regular contours. The field checking was done in summer 2017 through spring 2018. The map scale is 1:10,000 with 5-meter contours (derived from LiDAR data) and a number of 2.5 m form lines in the flat areas. Magnetic-north lines are 500 meters apart.
Control Descriptions: Control descriptions will be printed on the map. The White and Yellow courses have both text and symbol descriptions. All the other courses have just symbols. These special symbols are used: Fallen trees (brown × on the map) are indicated by "rootstock, ruined". If there is an actual rootstock over 1 m tall, then just "root stock" is used. Standing dead trees (green × on the map) are indicated as "lone tree, ruined".
Vegetation Mapping: The forest is very open, and even the white areas can seem like semi-open. Consequently, the boundaries between open forest and open land with scattered trees (semi-open) are not very distinct. But the main thing to note about this area is that it is just about devoid of any thick vegetation, such as bushes or even tall grass. Every bit of green on the map is due to trees of one form or another. Most of the trees are large oaks with a high canopy, but there are some smaller trees with branches close to the ground that are mapped with a light- or medium-green area. However, 95% of the green areas on the map are due to fallen trees. Single or small areas of fallen trees are mapped with the brown × symbol. This symbol is generally used for root stocks, but most of the downed trees do not have a distinctive root stock, so the brown × is centered on the whole tree. Where there were a number of downed trees in an area that couldn't be shown with a single brown ×, a green area symbol is used, such as undergrowth (vertical green lines) or one of the solid green areas (light, medium, and dark green) depending on the visibility and overall thickness of the area. The solid-green areas are used primarily when there were downed trees under forest canopy.
Other vegetation symbols: Green circle is used for a single distinct live tree; Green × is for a distinct dead tree (snag); Green dot is used for a small tree.
Roads and Trails: Due to the new grass growth in the spring, many roads and trails have become less distinct than shown on the map. Most of the trails are cattle paths which can change in intensity depending on the recent movement patterns of the cattle. Ranch roads that have become indistinct are mapped with the narrow ride symbol.
Water Features: There has been recent rain, so most natural watercourses and ditches will be wet. For the most part, the map has been adjusted to show correct water levels of ponds and streams in the spring. In the past, many man-made ditches that closely follow the contours of the land were dug to sell water diverted from streams to gold miners. The remnants of these ditches are mapped as small erosion gullies (brown dots), and generally there is no water in them. Many have become indistinct over time, and are only about 0.2–0.3 meter deep.
Rock Features: This area contains many examples of "tombstone rocks", rocks that are arranged in thin sheets and then tilted perpendicular to the ground. We also like to think of them as "shark fins". They are mostly less than 1 m tall and mapped as rocky ground. For the larger ones, it was a challenge to decide whether they are better mapped as boulders or small rock faces (cliff). Generally, if there is a significant drop on 2 sides, it is mapped as a boulder, even if it is only a 0.1–0.2 meter
Fences: The area is bisected in the roughly north-south direction by a barbed-wire fence that has four gates. Two gates will be used on Saturday (Green, Red, and Blue courses), and two different gates will be used on Sunday (Orange, Green, Red, and Blue courses). They will be marked on the map as mandatory crossing points, and you will be disqualified if you are caught climbing the fence.
It is very important to close the gates behind you to keep cattle from passing from one field to the other. If this happens, it will greatly jeopardize our future use of the area. We have installed a temporary bungee cord with a clip to make it quicker and easier for you to secure the gate behind you.
Water There will be water on the courses approximately every 2.5 km. However, due to the locations of access roads, these water stops will not be perfectly evenly distributed throughout your course. Do not litter​—​leave cups in the provided litter bags.
Hazards: Poison Oak: None, zilch, nada.
Watercourses: Most watercourses will be just a little muddy, but Crevis Creek (the main creek flowing through the middle of the map) is difficult to cross without getting your feet wet. You will most likely get your feet wet crossing Crevis Creek right before the last control on Sunday.
Cattle: They will be present during our event. They are very skittish since they see very few people in general, so expect them to stampede away from you before you reach them. Because of their presence, it is very important that every participant must close fence gates behind them after passing through. Try not to get between a mother cow and her calf.
Here is information about Deer Creek Hills and directions to get there.
---
Saturday, May 5, Sailor Bar, Fair Oaks. W, Y, long and short O; ED: Bill MacDonald, , 310-488-5264; CS: Dwight Freund.

Here are details about Sailor Bar and directions to get there. A Google map link is here.

A Sacramento County Parks link to Sailor Bar (with a map) is here.
---
Saturday, Sept. 29, Orangevale Community Park, Orangevale. W, Y, O; ED: Mats Jansson, , 916-220-0224; CS: Kyle Peter.
---
Sunday, Nov. 11, Mississippi Bar, Fair Oaks. Five-course B Meet; ED: Marsha Jacobs, , 916-408-8052; CS: Jonas Libell.
---
Saturday, Dec. 8, Old Town Folsom Holiday Scramble. ED: Dan Rathbun, 530-919-3785; CS: Dwight Freund.

.