Our Schedule
Registration for most GCO events opens at 9 a.m. and closes at 12 noon. Starting Times are assigned from 10 a.m. to 12:30 p.m. Beginner Instruction is offered as requested. Hint: Come anytime between 9 and 11 to have time for instruction and a course.
---
Our fees: $10 for each adult and $5 for each child or youth (ages 7-18) for non-members and $8 for adults and $4 for children or youths for members of GCO or other Orienteering clubs.
A second course is $2 per person. You can also rent a compass for $1 plus a refundable $5 deposit.
---
We offer online registration for most meets! This will save you time, plus give us a better count for printing maps. Here's how it works:
You can register and pay for your first course of the event.
You can buy a GCO membership, for discounted event fees.
You can rent a compass.
If you register online, you also have to pay online, using a credit card.
To further help speed things along on the day of the event, our liability waiver is available during checkout.
If you sign up online, and make sure to complete all the information in the signup process, you will be able to simply walk up to the check-in table. No additional paper forms, no waivers; it's all done online.
You can save time, particularly for groups, by filling out a Registration Form (left). Use ONE FORM for each individual or team going out together!!
PRE-REGISTRATION OPTION FOR GROUPS such as JROTC or Scouts with multiple teams. Contact the Event Director for each meet on the possibility of emailing your list of teams and courses a few days before the meet to save time.
---
2018
Abbreviations: W = White, Y = Yellow, O = Orange, Br = Brown, Gr = Green, R = Red, B = Blue, ED = Event Director. CS = Course Setter.
White and Yellow are beginner courses. Orange is intermediate. Brown, Green, Red and Blue are all advanced courses with varying lengths and physical difficulty.
All meets are tentative, subject to park approval!! Dates might be changed for various reasons, so always check here! Look for more details on the meets closer to the date.
Looking for other nearby orienteering meets? Check out Bay Area Orienteering Club (BAOC), terraloco. and Nav-X Challenge Map Treks.
We are including in our schedule below some of the closer six-event Nav-X Challenge Map Treks. Last year, GCO was one of the sponsors of this series, along with BAOC and terraloco. This year, Nav-X is becoming a nonprofit club, part of Orienteering USA. Check out the
---
Meets and Events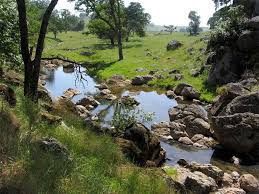 Deer Creek Hills
Saturday, March 17, through Sunday, March 25, 2018, COW 2018 or California Orienteering Week, seven national events over nine days.
GCO and BAOC are co-sponsoring this week with four events in the Bay Area and the final three on our terrain.
You can get the full schedule and all the details at the official COW 2018 website.
Advanced registration for all seven events is available now at that site. The deadline for early registration is 1 a.m. on Feb. 12. The deadline for regular registration is 1 a.m. March 10. There is also day-of-event registration for all events. Recreational courses will be offered for White and Yellow only; also Orange for Deer Creek Hills), at the standard BAOC or GCO fees paid on the day of the event.
You can order a COW T-shirt when you register. The deadline for ordering T-shirts is Feb. 22
Because these are national events, the five areas are embargoed. That means you cannot go to them if you plan to compete in the events.
Here is the brief schedule:
Saturday, March 17: Middle at Morgan Territory, near Livermore
Sunday, March 18: Middle at Morgan Territory
Monday, March 19: Middle at Point Pinole, near Richmond
Wednesday, March 21: Middle at Mills College, Oakland
Friday, March 23: Sprint at Sierra College, Rocklin
Saturday, March 24: Long at Deer Creek Hills Preserve, Rancho Murieta
Sunday, March 25: Middle at Deer Creek Hills Preserve, Rancho Murieta
The three GCO meets are our first National Events, sanctioned by Orienteering USA. The Event Director for those is Mats Jansson, , 916-436-7660; the course setters are Dwight Freund for Sierra College and Bill and Heidi Cusworth for Deer Creek Hills.
Here is information about Sierra College and directions to get there.
Here is information about Deer Creek Hills and directions to get there.
---
Saturday, May 5, Sailor Bar, Fair Oaks. W, Y, long and short O; ED: Bill MacDonald, , 310-488-5264; CS: Dwight Freund.
Here are details about Sailor Bar and directions to get there. A Google map link is here.
A Sacramento County Parks link to Sailor Bar (with a map) is here.
---
Saturday, Sept. 29, Orangevale Community Park, Orangevale. W, Y, O; ED: Mats Jansson, , 916-436-7660; CS: Kyle Peter.
---
Sunday, Nov. 11, Mississippi Bar, Fair Oaks. Five-course B Meet; ED: Marsha Jacobs, , 916-408-8052; CS: Jonas Libell.
---
Saturday, Dec. 8, Old Town Folsom Holiday Scramble. ED: Dan Rathbun, 530-919-3785; CS: Dwight Freund.

.