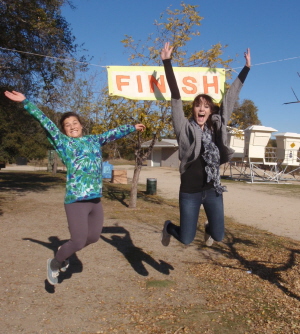 More Happy Lulla Finishers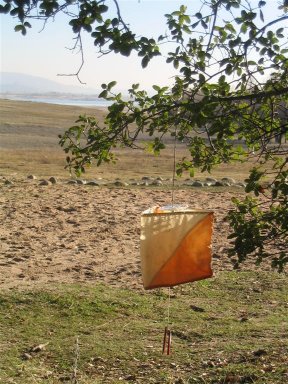 Granite Bay
Granite Bay
Dec. 3, 2011
By Marsha Jacobs
Event Director
What a beautiful day! Thanks to some clear weather, there was a great turnout for Gold Country Orienteers' final event of 2011. Dan Rathbun did a super job of devising six creative courses that were thoroughly enjoyed by everyone attending.
The superstar of the day was Erika Kikuchi, who came up from the Bay Area and ran a record four courses in a single day! Congratulations, Erika; well done! Of course, her times were very fast, which is the only way to squeeze in so many courses in the four-hour available running window.
Mike Hancock and Sean Keehan blasted through the White in winning time and then followed that up with a speedy time on Yellow. Winner of the Yellow was Danny Lulla. Septuagenarian Nigel Killeen showed up all the "youngsters" on Orange. Matthias Kalle Dalheimer proved that Swedish orienteers are faster than we Americans by winning the Brown. François Leonard squeezed past some stiff competition to win the Red course.
As always, we cannot succeed at these events without our amazing volunteers. Tremendous thanks go to the following people who gave so much of their time to ensure a splendid day:
Course Setting and Hanging Controls: Dan Rathbun
Map Printing: Bob Cooley
Setup: Jonas Libell, Jennifer Kerr
Beginner Clinics: Jennifer Kerr
Registration: Jill Van Houten, Mats Jansson
Starts: Jonas Libell, Dan Rathbun, Mats Jansson
Finishes: Dave Takacs
Control Pickup: Dan Rathbun, Mats Jansson, Alan Walls, Dwight Freund
RESULTS
WHITE (2.6km, 9 controls)
1 Mike Hancock, Sean Keehan 22:31
2 Erika Kikuchi 24:14
3 Jen, Jordan Allen 26:06
4 Samuel Rector-Saldana, Karen Torres, Nerissa Candelarlo, Noel Gradilla, Jaquan Palmer (Florin JROTC) 32:49
5 Mark, Natalia Allen 41:48
6 Ana Abubu, Jennifer Xayavong, Deantioneke Green, Lillian DeLeon, Elena Soto (Florin JROTC) 42:29
7 Philip Pohle, Santiago Spradling, John Plegenbent, Steven Kelly 43:02
8 Rae, Gabriel Cline (Scouts) 43:32
9 Erin Millar, Rollie Coleman, Alex Coker, Caleb Hiles 44:50
10 Lynn Simpkin 45:05
11 Anne, Catherine, Sky Pohle & Isabella, Evangelina Spradling 50:31
12 Jamie, Caiden Hiles & Marsella, Malachai, Ray, Josh 52:31
13 Kurt, Jenny, Gavin Berg & Damien Cibrion 57:27
14 Eric, Morgan, Miller, Meyer, Micah Tring 58:21
15 Sarah, Diane Miller 60:58
16 Danny, Abby, Sarah, Jacob Zeibert 80:04
17 Autumn, Brooke Lulla 96:00
18 Tony, Linda, Christian Clayton 115:17
YELLOW (3.5km, 13 controls)
1 Danny Lulla 68:07
2 Burbank Sharks - Chris Diel, Nixon Vongviloy, Angel Valesauez (NJROTC) 72:10
3 Nathan Brammeier & Amy, Abby Silva 79:46
4 Karen Radogna, Connie Van Horne 84:57
5 Ken Roe, Mike Folly 86:32
6 Anthony, Claudia Chaus & Joshua, Jazlyn Jochims (Team USES) 92:27
7 Robert, Joy, Trevor Valenton 94:02
8 Junko, Lucas, Alyson Walls 103:33
9 Carl, Samuel Romine 181:23
Lourdes, Victoria Ibarra DNF
Ryan Ibarra, Garett Tucker DNF
Adrian, Vanessa Compton DNF
YELLOW 2nd COURSE:
Mike Hancock, Sean Keehan 30:28
Erika Kikuchi 35:45
Bob, Viv Terwilliger 53:46
ORANGE (4.4km, 14 controls)
1 Nigel Killeen 69:02
2 Denise Ihler 70:01
3 Meredith Budlong, Doug Hicks 72:11
4 Harold DeMoss 73:14
5 Bob, Viv Terwilliger 80:28
6 Jill Van Houten 85:51
7 Lu Saelee, Emilio Vasquez, Marios Lazuya, Domenique Jefferson, Gurpreet Parhar (Florin JROTC) 100:12
8 Ryan Funk, Brad Pointer, Madison Shepard (Peak Adv) 101:53
9 Comanche Burbank - Stephanie, Sue, Richard Diaz (NJROTC) 117:38
10 Lisa Probst & Danielle, Ralph Keith 117:39
11 Burbank Samuris - Manni Robins, Willie Lafiladez, Eddy Sandoval, Dave Xiowly, Chris Majarj (NJROTC) 118:48
12 Mark, Joan Savarese 144:26
13 Pat, Conor McCaa & Ryan Parker, Jorden Sherman, Susan Atkins (Scout Troop 12) 162.28
Kurt Kaunzinger MSP (#13)
Steve, JC Cline DNF
Betty Sun, Brian Yashimizu & Alexandra, Thomas Higgins DNF
Jeffrey Dungen DNF
Craig Devita DNF
Burbank Pat - Teddy Chang, Chris Vue, Allen Vang (NJROTC) DNF
ORANGE 3rd COURSE:
Erika Kikuchi 61:26

BROWN (4.9km, 17 controls)
1 Matthias Kalle Dalheimer (Sweden) 68:13
2 Jennifer Kerr 99:59
3 Jeff Van Horne 105:56
4 Terry Gleason 110:10
5 Rosemary Johnson 117:23
6 Will White, Matt Durcher, Todd Peree 120:35
7 Victoria Harris, Charlie Kharsa, Debbie Buckmann 135:14
8 Dan Sholl, Claire Legerdre-Sholl 140:02
9 Brad, Natalia Best 166:06
10 Nancy Lindeman 186:31
BROWN 4th COURSE:
Erika Kikuchi 90:40
GREEN (5.7km, 16 controls)
Johanna Merriss DNF
Marie-Josée Parayre DNF
RED (6.5km, 21 controls)
1 François Leonard 57:28
2 Mats Jansson 66:04
3 Roy Malone 68:01
4 Jonas Libell 71:48
5 Penny DeMoss 91:24
6 Kristijan Mitrovic 91:26
7 Ryan Zahner 95:15
8 Peter Graube 102:04
9 Carol Lyda 126:36
10 Jeff Sterett 131:41
11 Blair Hickman 132:53
12 Steven Duke 142:33
13 Norbert Wagner 160:09
Alan Walls DNF
Glenn Hermanson DNF
Participants:
White: 59
Yellow: 32
Orange: 47
Brown: 17
Green: 2
Red: 15
Total: 167
Back to Results