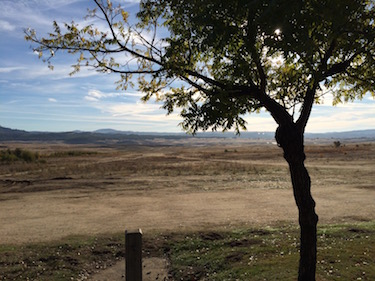 Where's the Lake, anyway???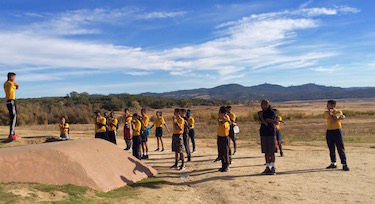 Burbank JROTCers warm up before the meet
Granite Bay
Nov. 22, 2015
By Dan Rathbun
Course Setter
It was a fantastic day Sunday out at Granite Bay. The weather was perfect and the park was in full autumn transition. The dry lake, while a sad reminder of our water situation, was totally fascinating and provided a rare glimpse into the terrain of an un-flooded past. We had a great turnout and many wonderful volunteers who made it all possible.
First of all, thank you to everyone for your patience at this event. We did not have an Event Director, so there was quite a bit of scrambling on the volunteers to pull all the details together in order to make this happen as smoothly as possible. Once again, we will put out the call for volunteers for the 2016 season; we will need you.
As for Sunday, thank you Mats, Norbert, Junko, Alyson, Teresa, Erin, Emily, Marsha, Jonas, Jennifer, the NJROTC troop from Luther Burbank (control finders William, Darin, Meng, Myles, James, Juan, and Angel), and, of course, Dave Takacs. Even some participants joined in to make things smoother, including Matej Sebo, who provided great feedback and even ran out to correct a control placement.
The course setter had some problems setting that gave the advanced course participants some grief (see below). Fortunately, there were many happy, smiling, tired participants. We had a huge number of participants enjoy a second course. All in all we had 191 participants enjoying either a White, Yellow, Orange, Brown #1, Brown#2, Green or(and) Red course (and sometimes more than one). Thirty-four participants on the White course, 70 participants on the Yellow course, 48 participants on the Orange course, 16 on the two Brown courses, 10 on the Green course and 22 on the Red course. For the advanced courses, thanks for all the positive feedback and understanding. Below are the times, to be considered given the following information:
My apologies go out to all those who participated in the Brown/Green/Red course. There were mistakes in the symbols and control placement. The Brown course had a misplaced control; it was #4. On the Green and Red course there were two misplaced controls; numbers #4 and #6. Most of you found these controls, and for those who didn't, you will be given credit for the control(s). Most of you were very understanding and some of you were upset.
As a reminder, for those who are becoming advanced map readers, and to those of you who are already advanced map readers: Mistakes happen and theft happens, so if you arrive at the point at which the control should be and it's not there, do not spend an inordinate amount of time searching for a lost/stolen/misplaced control. With the punch system, it is possible to move forward and notify the ED or CS upon your finish. Unfortunately with the punch system, we cannot separate out that leg of the race to account for the mistake as with the electronic system. I know it's natural to not want to leave an area without finding the control, but exercising discipline and confidence is a very important aspect of orienteering.
Only one more event for GCO this year, and that is Sunday, Dec. 13 in downtown Folsom. Please continue to check our site for the 2016 season. Also remember to visit the Bay Area club site for more orienteering events.
RESULTS
WHITE (3.0 km, 10 controls)
1. Greg Mandler, 30:57
2. Camdyn Malone, 49:34
3. Sara Rosales, Elyse Frakes, (Sara & LC), 59:06
4. Bode Penman, Logan Penman, John Penman, Scout Pack 310, 65:10
5. Carlos Rodriguez, CSUS, 70:23
6. Olanrewaju Ablmbola, CSUS, 72:27
7. S Winter Borg, S Borg, 73:10
8. Lena Randolph, Atticus Randolph, Scout Pack 310, 84:41
9. Carrie Yang, Frank Bravo, Barbara Bravo, GCO, 85:09
10. Diana Guderman, Luella Borris, GCO, 86:33
11. Lucy Soldati, Anne-Marid Soldati, 103:26
12. James Bath, Eric R, Nathan Mix, Brian R, Beth Bath, Scout Troop 95, 111:56
13. tie Dylan Gonzalez, Julio Gallardo, Rusbel Sanchez, Ben Milam, Justin Avellamosa, (Team Sutter), CSUS, 117:31
13. tie Mao Chang, Ronnie Yang, Luther Burbank HS NJROTC, 117:31
YELLOW (3.7 km, 11 controls)
1. Elena Esteves, Art Livingston, 38:09
2. Alberto Villa, Michael C, CSUS, 56:48
3. Marcos Lopez-Sosa, Joel Lopez-Sosa, CSUS, 58:31
4. William Hall, Luther Burbank HS NJROTC, 61:06
5. Darin Nguyen, Luther Burbank HS NJROTC, 69:38
6. Nate Nugen, CSUS, 71:47
7. Teresa Jansson, GCO, 72:20
8. Joey Muscarella, ?, CSUS, 73:13
9. Gabrielle Torres, Serena Chin, CSUS, 75:15
10. Carson Moua, Luther Burbank HS NJROTC, 79:20
11. Angel Tapia Martinez, Luther Burbank HS NJROTC, 79:45
12. Taylor Barry, CSUS, 80:35
13. August Melo, Turlock HS NJROTC, 89:18
14. Michael, CeCe, Scout Pack 310/144, 89:28
15. Alejandro Flores, Luther Burbank HS NJROTC, 89:49
16. Jeremy Palomar, Eric Palomar, Scout Pack 310, 89:52
17. Dan Sholl, Claire Legendre, (Sholl), GCO, 90:31
18. Ricki Reese, CSUS, 96:31
19. Muhammad Abdullah, Luther Burbank HS NJROTC, 98:06
20. Imani Bonds, Anna Robles, Luther Burbank HS NJROTC, 99:42
21. Marqi Landis, Trevor Gibson, Joshua Figueroa, CSUS, 102:33
22. Diman Aldridge, Anthony Ziba, 103:38
23. Noah Williams, Luther Burbank HS NJROTC, 104:23
24. Bailey Jackson, David San Felipe, 104:34
25. Stacy Saelee, Roger Saechao, 110:50
26. Downey Vang, Kennith Vang, CSUS, 117:31
27. Kim Schaefer, Noah Schaefer, 119:05
28. Diane Hoang, 119:38
29. Emily Bollinger, CSUS, 121:37
30. Yixue Du, Shikang Hu, Linlang Hu, 132:21
33. Mark Spiller, Annemarie Spiller, Winston Spiller, 133:31
32. Levy Vang, Luther Burbank HS NJROTC, 161:20
33. Akaash Kamar, Luther Burbank HS NJROTC, 163:25
34. Alex, Christa, Scout Pack 310/144, 176:52
35. Alex Anselmi, Joey McGale, 178:54
Junko Walls, Aly Walls, GCO, DNF
Ralph Keith, Danielle Keith, DNF
Eric Bragas, Anthony Gragas, Matt Ming, Carl Ming, Sammy Ming, DNF
Rodolfo Yam, Luther Burbank HS NJROTC, DNF
Second Course
Greg Mandler, 64:20
Ronnie Yang, Mao Chang, 111:23
ORANGE 4.2 km, 12 controls
1. David Martinenko, Elizabeth McHugh, GCO, 73:15
2. William Murphy, BAOC, 86:40
3. Alan Walls, Luke Walls, GCO, 88:52
4. Kathy Tegtmeier, Mike Christensen, GCO, 89:13
5. Cori Campa, Peter Campa, 89:38
6. Norbert Wagner, GCO, 92:24
7. Meng Chang, Luther Burbank HS NJROTC, 101:09
8. Erin Magers, GCO, 104:36
9. Regina Shaw, Melissa Lykins, Savannah Lykins, Damon Lykins, Stanley Zakerski, 107:44
10. Daphni Ames, Cathleen Groman, 108:06
11. Kelly Cross, Turlock HS NJROTC, 109:02
12. Nigel Killeen, ROC South Africa, 117:21
13. James Clarke, Jesse Clarke, (OV AD Clarkes), 132:16
14. Jeremy McConnell, Shelby McConnell, (The McConnells), 134:03
15. Ryan Wilkerson, Cort Wilkerson, (The Wilkersons), 160:20
16. Jessie Romero, Turlock HS NJROTC, 161:46
17. James Ramos, Luther Burbank HS NJROTC, 224:59
18. Myles Vaughn, Luther Burbank HS NJROTC, 230:57
19. Jasmine Yang, Luther Burbank HS NJROTC, 234:55
Noah Bell, Turlock HS NJROTC, DNF
Ryan Cook, Turlock HS NJROTC, DNF
Kayla Aschwanden, Turlock HS NJROTC, DNF
Katherine Stoddard, Maxine Jacoby, DNF
Bob Seyfried, DNF
Steve Thorns, Chase Deblaquiere, (Steve & Steve), Scout Pack 310, DNF
Olivia Smoot, Jason Lowery, (Chickens), DNF
Juan Flores, Luther Burbank HS NJROTC, DNF
Tom Jones, DNF
Second course:
William Hall, 112:10
Carson Moua, 112:17
Darin Nguyen, 113:28
Rodolfo Yam, 113:29
Angel Tapia Martinez, DNF
BROWN 1 (4.4 km, 13 controls)
1. George Minarik, BAOC, 74:34
2. Ivan Lopez, Catherine Kazbour, (Fish Legs), 82:14
3. Alak Ghosh, BAOC, 97:06
4. Bob Bruns, Sue Lorimer (Team BS Speed Unit), GCO, 127:18
5. Kira Riley, Turlock HS NJROTC, 165:38
6. Mackinzie Mauck, Turlock HS NJROTC, 168:50
7. Corrine Alicea, Turlock HS NJROTC, 169:27
Chad Thomas, Turlock HS NJROTC, DNF
Nancy Lindeman, BAOC, DNF
BROWN 2 (4.3 km, 12 controls)
1. Johanna Merriss, BAOC, 70:47
2. Marsha Jacobs, GCO, 96:51
3. Jennifer Kerr, GCO, 127:56
Mackensie Yore, DNF
Second course
Meng Chang, 106:52
GREEN (5.2 km, 14 controls)
1. Olga Kraght, BAOC, 101:20
2. Ramandeep Singh, Turlock HS NJROTC, 124:30
3. Daniel Sebo, BAOC, 125:06
4. Steven Duke, GCO, 125:21
5. Giovan Ontiveros, Turlock HS NJROTC, 132:44
6. Shane Carl, Turlock HS NJROTC, 167:56
7. Randy Christopherson, Heide Crosbie, Dan Crosbie, (The Magpies), 217:58
William Calderon-Lopez, Turlock HS NJROTC, DNF
RED (6.3 km, 17 controls)
1. Matej Sebo, BAOC, 51:46
2. Roy Malone, GCO, 74:46
3. Tapio Karras, BAOC, 76:22
4. Tac Sugiyama, BAOC, 80:41
5. tie Ann Marie Cody, BAOC, 84:02
5. tie Mats Jansson, GCO, 84:02
7. Tommy Ingulfsen, BAOC, 95:02
8. Gary Kraght, BAOC, 95:05
9. Aron Walker, 104:37
10. Rangar Borg, 106:28
11. Lubomir Sebo, BAOC, 119:44
12. Greg Ehrensing, BAOC, 128:07
13. Frank Slattery, GCO, 130:51
14. Meredith Zanardi, Elva Sullivan, Steven Langford Jr, Douglas Lyle, Patrick Curtis, (Peak Adventures), 208:54
15. Tommy Carl, Turlock HS NJROTC, 217:41
Justin Singh, Turlock HS NJROTC, DNF
Nick McKeon, Turlock HS NJROTC, DNF
Dorian Macintosh, Turlock HS NJROTC
Participants:
White: 34
Yellow: 70
Orange: 48
Brown 1: 11
Brown 2: 5
Green 10
Red: 22
Total: 191 (not counting second-course runners)
Back to Results