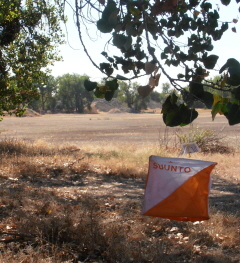 Mississippi Bar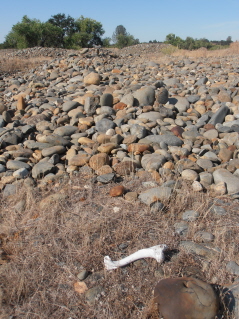 Orienteer's Fate on the Rocks?
Mississippi Bar
Oct. 16, 2011
By Paul Keeton
Event Director
What a successful event! Everybody was having fun in the outdoors on a beautiful day. The temperature at 10 a.m. was a very pleasant 70 degrees F. Most of the participants were first-timers, and the JROTC from Rio Linda High School was out in full force. Hopefully everyone will return to our next meet, Sunday, Nov. 13, at Sacramento Bar.
Jennifer Kerr was the Course Setter and did an excellent job in setting courses from very easy to quite challenging. They provided a great way to view a beautiful area of the American River waterway, and to see some of its history.
Many thanks to all of the volunteers who made such a successful event possible. Without the volunteers, the event would not have happened.
The White course winner was Steve Bacon and family, with a time of 37:06, followed closely by Sal Sanchez's JROTC team, running White as a second course, with a time of 37:14. The winner on the Yellow course was Maureen Kunz, with a time of 41:44. GCO's Alan Walls was the fastest on the Orange course, turning in a time of 84:55. Michael Chastaine ran the Orange in a time of 53:56, but that was his second course. BAOC's David Harrison, 14 years old, was the winner on the Brown course, with a time of 74:16, with GCO's Marsha Jacobs in second at 85:43.
The Red course was hotly contested, with GCO's Jonas Libell winning in a time of 75:01, followed closely by BAOC's Steve Gregg with a time of 78:06. There were four others with finishing times under 90 minutes, including Stephen Harrison (David's father) and GCO's Dan Rathbun.
Congratulations to everybody who participated, and we hope to see you at our next meet. Thank you.
RESULTS
WHITE (2.9k 40m climb 12 controls)
1. Steve Bacon, Stephanie Bacon, Michael Bacon, David Bacon, Timothy Bacon 37:06
2. Talent Le, Ashley Mack, Michael Pham, Daniel Mahoney, Evan Becker, Stephen Foung CSUS 45:05
3. Junko Walls, Luke Walls, Alyse Walls 50:04
4. Tony Clayton, Christian Clayton 50:23
5. Bethany Quinn, James Williams 54:24
6. Tegan Malone, Trish Malone, Camdyn Malone 55:57
7. Timothy Reed, Cheryl Reed 62:05
8. Larry Cooper, Crystal Cooper 64:01
9. Debbie Rumsey, Mike Rumsey, Mitchell Rumsey 66:50
10. Sarah Miller, Diane Miller 67:39
11. Kyle Draper, Springer, W. Forsythe JROTC 68:23
12. Melinda Lee, C. Crawford, K. Quinn, S. Pearce JROTC 70:30
13. Chuck Unsworth, Ellen Unsworth, T. Unsworth, S. Unsworth 77:18
14. Ray Wise, Nancy Wise 77:38
15. Rae Cline, Gabriel Cline, Judy Pickens 77:58
16. J. Arias, D. Tellez, S. Urias JROTC 81:57
17. Alena Hansen CSUS 83:36
18. Crystal Young, Kyla Smith, Marty Leeman JROTC 128:59
Eliana Rivera, Nick Rodriguez CSUS Unk.(no Start time)
Chris Seagers, Tameris Griffin, J. Zimmerman JROTC DNF
Xuan-Phuong Trinh, Ariel Wann CSUS DNF
Kathy Yang, K. Yang-Godfrey CSUS DNF
Second course:
Sal Sanchez JROTC 37:14
K. Quinn, W. Forsythe, C. Crawford JROTC 48:15
 
YELLOW (3.7k 35m climb 13 controls)
1. Maureen Kunz 41:44
2. Craig Devita GCO 46:57
3. Bridget Malone, Gavin Malone 47:44
4. Vern Ahnin, Julie Westberg 47:58
5. Sarah Johnston 48:49
6. Jason Lynch, Janise Lynch, Holly Lynch 60:20
7. Daniel Roberts GCO 66:13
8. Alexandria Jenison, Rick Paita, Robert Ponce JROTC 68:07
9. Brad Best, Natalia Best 72:59
10. Sal Sanchez, Ernesto Ruiz, Antonio Guardado JROTC 82:14
11. Justin Lopez, Brad Fair, Lee Roblez JROTC 86:41
12. Joan Merriss 95:45
13. Jana Turner, Terese Procida 102:30
14. Thuy Nguyen 114:54
15. Sarah Shelton, Shaylen Lambert, Edin Romero JROTC 124:18
16. Brian Burdullis, Tyler Burdullis, Richard & Andrew Monteverde, Darren & Matthew Morris BS Troop 198 128:44
17. A. Hudson, Daniel Magana, Alex Gaball, William Hollcroft JROTC 135:43
18. Aaron Phillips 143:34
Cameron Smith, K. Battilega, Tim Green JROTC DNF
Sydney Lynch, Kay Lynch DNF
Second course:
Melinda Lee, Scott Pearce, Katie Springer, Kyle Draper JROTC DNF

ORANGE (4.8k 75m climb 12 controls)
1. Alan Walls GCO 84:55
2. Jill van Houten GCO 117:55
3. Olga Kraght BAOC 123:53
4. Pat Corcoran GCO BAOC 141:02
5. Burbank Oysters NJROTC 145:35
6. Paul Keeton GCO 146:36
7. Kevin Walker BAOC 176:34
8. Judy Koehler BAOC 176:35
9. Richard Merriss 176:54
10. Doug Walden 179:01
11. Steve Cline, Joshua Cline, Joe Pickens 180:00
12. James Thong, Jessica Thong 197:43
Steven Doyle, Courtney Smith, Santana Sotelo JROTC DNF
Aaron Woolen, Randie Sanchez, Anthony Davis, Jeremy Church JROTC DNF
Luis Sotelo, Rubio, Baltazar, P. Ruiz JROTC DNF
Ken Roe GCO DNF
Daniel Simonson, Joann Simonson, Daniel Simonson, JR, Matthew Simonson, Victoria Simonson DNF
Burbank DDGs NJROTC DNF
Second course:
Michael Chastaine 53:56
Jeff Sterett GCO 113:20
Maureen Kunz 139:20
Craig Devita GCO DNF
Sarah Johnston DNF

BROWN (4k 50m climb 11 controls)
1. David Harrison BS Troop 24 74:16
2. Marsha Jacobs GCO BAOC 85:43
3. Jeff Sterett GCO 89:54
4. Rosemary Johnson BAOC 99:21
Nancy Lindeman BAOC DNF

RED (6.7k 90m climb 14 controls)
1. Jonas Libell GCO 75:01
2. Steve Gregg BAOC 78:06
3. Steven Harrison BAOC 81:43
4. Dan Rathbun GCO 81:47
5. Roy Malone GCO 84:18
6. Michael Chastaine 88:37
7. Gary Kraght BAOC 91:52
8. Greg Ehrensing BAOC 107:24
9. Steven Duke 108:10
10. Peter Olsten BAOC 109:10
11. Norbert Wagner GCO 122:22
12. Johanna Merriss BAOC 137:33
Samuel Rector, Emilio V., Marcos L., Aaron C., Anthony S., Karen T., Samuel R., NJROTC DNF
Aha Abubo, J. Palmer, K. Quenga, D. Green, N. Gradilla, J. Garcia NJROTC DNF Charles Locke DNF

Participants:
White: 65
Yellow: 49
Orange: 42
Brown: 5
Red: 26
Total: 187
Back to Results