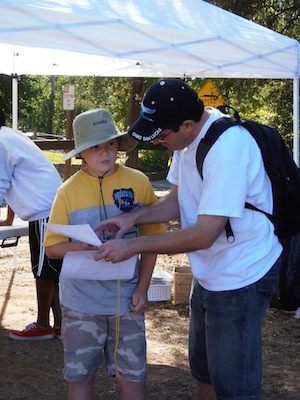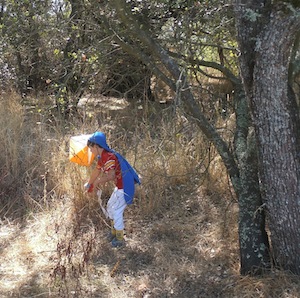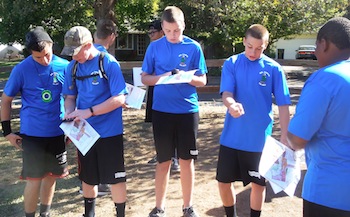 Orangevale Community Park
Oct. 5, 2013
By Jennifer Kerr
Event Director and Course Setter
We had a beautiful fall day for our return to Orangevale Community Park for a National Orienteering Day meet aimed at newcomers. And the turnout was good, with 65 people trying out the White course! We had a total of 117 participants, not bad for this tiny urban park!
These participants included students from our co-sponsor, Casa Roble High School Air Force Junior ROTC (it's right across the street), as well as from Del Campo High School JROTC, Sacramento State University and some Scout troops.
The two JROTC teams were fiercely competitive on the White course. Del Campo's team of Austin Miller, Christian Kohle, Devin Parsons and Regina Olguin blazed through in 20:19, followed by Casa Roble's Joseph D'Ascenzi, Joy Marr, Lily Fields and Chad Fields in 20:55.
GCO's Emma Jansson triumphed on Yellow at 29:05. Second was the Casa Roble team of Paul Boucher, Thomas Turner, Simon Smit and Justin McAfee. The Orange course victor was BAOC's Gavin Williams in 30:27. Next was GCO's Anthony Mistry in 44:21. Two things to note: All these winners except for Anthony are teens! And Anthony was the only person who did ALL THREE of the courses, also posting the fastest times on White and Yellow, his third and second courses, respectively!
Now for the thank-yous.
We had lots of help from the Casa students, who assisted with setting up, starts, finishes and the all-important control pickup. We love you all! They are Joseph D'Ascenzi, Meghan Scott, Dustin Greenfield, Joy Marr, Cody Talbert, Hannah Wahlquist, Thomas Turner, Christine Turner, Justin McAfee, Moises Solorzano, Justin Milligan, Simon Smit, Michael Peterson, Nathan Sharp, Ondrea Cumbra, Samantha Marion, Hannah Craig, Tommy Tripp, Brandon McDonald, Kyle Ladd and Joe Paiva. Also a big thanks to their teacher, Lt. Col. Kevin Houdek, who obtained the park permit as well as getting all the kids organized and enthused to join us.
And here are the profound thanks for our usual GCO crew:
Control Hanging Help: Marsha Jacobs
Setup: Norbert and Thomas Wagner
Beginner Clinics: Mats Jansson, Dan Rathbun
Registration: Paul Keeton, Marsha Jacobs
Starts: Jonas Libell
Finishes: Dave Takacs
Map Printing: BAOC's Map-Wizard Bob Cooley
RESULTS
WHITE (2.0km, 14 controls)
1. Austin Miller, Christian Kohle, Devin Parsons, Regina Olguin Del Campo JROTC 20:19
2. Joseph D'Ascenzi, Joy Marr, Lily Fields, Chad Fields Casa Roble JROTC 20:55
3. Alex Friessen 25:44
4. Trevor Park, Sonia Rojas, Maddy Crosby, Reyes DeLeon Del Campo JROTC 26:14
5. Michael Fuller, Sean Fuller, Chris Foster, Richard Spinali, Roderick Spinali Del Campo JROTC 30:15
6. Anthony Sadler, Franklin Macato CSUS 30:00
7. Jacob Lester, Duncan Patel, Jaamir Smith, David Cramer Del Campo JROTC 30:49
8. Karolina Pulber, Natalie Pulber CSUS 31:08
9. Joshua Roberts, Christina Roberts BS Troop 386 32:19
10. Brandon Singer, David Adams, Anthony Simons, Smito Faanati Del Campo JROTC 37:56
11. Michael Salvatierra and one other CSUS 39:22
12. Desaree Raymond, Andrew Nelson CSUS 40:20
13. Christie Harris, Allen Harris, Anjelina Chavez CSUS 42:02
14. Anita Jackier, Samuel Jackier, Rae Cline, Joshua Cline, Gabriel Cline BS Troop 107 43:19
15. Juan Tabarez, Christine Turner, McKenzie Stewart Casa Roble JROTC 43:57
16. Eric Antolin 49:01
17. Dana Smal CSUS 49:39
18. Thomas Wagner 50:11
19. Steve Boitano, Jessica Boitano 51:39
20. Ari Figueroa, Graciela Franco CSUS 53:49
21. Toulee Vue, Silverio Sanchez CSUS 54:02
22. Team of three 54:42
23. Danny Zeibert, Jacob Zeibert CS Pack 29
24. Tim Libell, Jonas Libell GCO 62:40
25. Michael Chapman 75:45
Third Course
Anthony Mistry GCO 14:49
YELLOW (2.4m, 13 controls)
1. Emma Jansson GCO 29:05
2. Paul Boucher, Thomas Turner, Simon Smit, Justin McAfee Casa Roble JROTC 33:14
3. Nathan Sharp, Cody Talbert, Michael Peterson Casa Roble JROTC 33:49
4. Moises Solorzano, Tommy Tripp Casa Roble JROTC 40:39
5. Ken Roe GCO 41:33
6. Kurt Kaunzinger, Nicole Sholly 45:09
7. Alyson Viducich, Jacob Viducich, Hailey Viducich, Taylor Viducich, Tommy Viducich, Aaron Viducich, Layla Kelly GS Troop 2686 68:03
8. Cedric Green, Karin Green, Nathaniel Green, Alexandra Green, Scott Bascochea 77:02
Second Course
Anthony Mistry GCO 20:28
Anita Jackier, Samuel Jackier, Rae Cline, Joshua Cline, Gabriel Cline BS Troop 107 51:51
ORANGE (3.0km, 17 controls)
1. Gavin Williams BAOC 30:27
2. Anthony Mistry GCO 44:21
3. Marsha Jacobs GCO 51:28
4. Norbert Wagner, Tom Wagner GCO 52:58
5. Paul Keeton GCO 53:55
6. Team BS Speed Unit (Bob Bruns, Sue Lorimer) GCO 58:55
7. Daniel Roberts 67:51
8. Leilani Hall, Alex Thibault GCO 73:04
9. Meghan Scott, Joseph Bagdikyan, Joshua Willis, Dustin Greenfield Casa Roble JROTC 77:18
10. Jeff Sterett, Sophia Sterett GCO 79:44
11. Mike Christensen, Kathryn Tegtmeier 80:17
12. Glenn Hermanson, Paige Hermanson 100:00
12. Art Livingston, brother 100:00
14. Justin Milligan, Kyle Ladd, Hannah Craig Casa Roble JROTC 101:34
Eric Chapman Casa Roble JROTC DNF
Melissa Della, Katie Benson, Hannah Wahlquist Casa Roble JROTC DNF
Second Course
Kurt Kaunzinger, Nicole Sholly 52:16
Moises Solorzano, Thomas Turner, Justin McAfee, Cody Talbert Casa Roble JROTC 63:24
Participants:
White: 63
Yellow: 25
Orange: 29
Total: 117
Back to Results