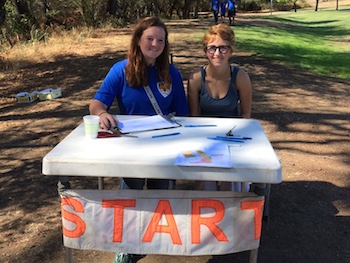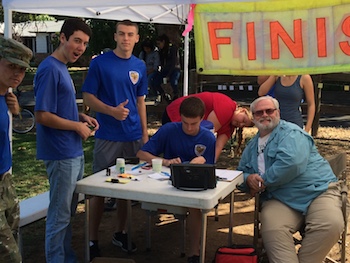 Orangevale Community Park
Sept. 27, 2014
By Jennifer Kerr
Event Director and Course Setter
It was a lovely, sunny and cool day at Orangevale Community Park for our first fall meet. The 107 participants included lots of young people and newcomers.
These included students from our co-sponsor, Casa Roble High School Air Force Junior ROTC (it's right across the street), as well as JROTC students from Del Campo, River City and Cordova high schools and young people from Sacramento State University and Boy Scout troops.
The River City JROTC team of Michael Warner, Jesse Arias and Joseph Lytle was fastest on White, with a time of 24:52. The winners on Yellow were Casa's Joseph D'Ascenzi, Tristan Adamson, Brenden Prime and Olivia Riehle in a blistering 17:59. GCO's Mats Jansson sped through the Orange course in 29 minutes flat.
Now for the thank-yous.
We had lots of help from the Casa students, who assisted with setting up, starts, finishes and the all-important control pickup. We love you all! They were Tristan Adamson, Joe D'Ascenzi, Brenden Prime, Samantha Marion, Cody Talbert and Erik Chapman.
Also a big thanks to their teacher, Lt. Col. Kevin Houdek, who obtained the park permit as well as getting all the kids organized and enthused to join us.
And here are the profound thanks for our usual GCO crew:
Control Hanging Help: Marsha Jacobs
Setup: Norbert Wagner
Beginner Clinics: Paul Keeton
Registration: Marsha Jacobs, Mats Jansson, Connie Snow
Starts: Jonas Libell
Finishes: Dave Takacs, Paul Keeton
Map Printing: BAOC's Map-Wizard Bob Cooley
RESULTS
WHITE (2.0km, 14 controls)
1. Michael Warner, Jesse Arias, Joseph Lytle River City JROTC 24:52
2. Wyatt Costa, Samantha Stout, Michael Levchenko 31:42
3. Sunveer Singh, Justos Tafoya, Jason Makeyenko, Dante Ancheta, Sal Singh River City JROTC 36:04
4. Alexis Cuevas, Matt Haven Cordova JROTC 36:14
5. Ja'zelle Copeland, Brian Granados, Alejandro Cervantes Cordova JROTC 40:25
6. Midori Mekata, Ximena Chavez, Travarez Swain Cordova JROTC 40:56
7. Marilee and Russell Warner River City JROTC 40:57
8. Cammy Scott, Emily Downey River City JROTC 42:12
9. Veronica Prado and other 43:40
10. Amy Wolcott, Jeremy, Maddox, Liam Broughton 47:54
11. Carol Sodestrom, Tina Treyler, Lally Pin GCO 54:12
12. Richard and Carol North, Fran and Cathy Jones 54:59
13. Maria and Jose Perez, Sunny Garcia River City JROTC 55:58
14. Elaine Marshall GCO 59:08
15. David Mortimer, Ansan Pritt, David Lilley, Collin Mortimer, Craig Riddle Boy Scout Troop 298 70:20
16. Tim, Titus Libell GCO 80:22
17. James Garcia, Nigel Reaves Cooke, Miguel Munoz Cordova JROTC 85:35
Levi Chabino, Justin Jartwick, Dakota Lisic, Spencer DeMar Casa Roble JROTC DNF (no punches)
Second Course
Matt Haven, Alexis Cuevas, Ximena Chavez, Miguel Munoz, James Garcia Cordova JROTC 24:45
YELLOW (2.8km, 12 controls)
1. Joseph D'Ascenzi, Tristan Adamson, Brenden Prime, Olivia Riehle Casa Roble JROTC 17:59
2. Erik Chapman, Cody Talbert Casa Roble JROTC 28:40
3. Alan, Lucas, Alyson Walls GCO 30:37
4. Thomas Coppin, Bryce, Curtis, Cade, Tyler, Carter, Sean, Reuben Boy Scout Troop 529 54:20
5. David Takacs GCO 56:40
6. Freya, Siri and Torsten Robinson, Dana Rotteman, Uno Dahlman, Ingrid Anderson 60:30
7. Jonathan and Natalie Woster, Braden Pinney 61:08
8. Nicole Duque, Jordan Marquez, CSUS 87:08
Second Course
Michael Warner, Jesse Arias, Joseph Lytle River City JROTC 39:30
Sunveer Singh, Justos Tafoya, Jason Makeyenko, Dante Ancheta, Sal Singh River City JROTC 45:55
Cammy Scott, Emily Downey River City JROTC 51:51
Maria and Jose Perez, Sunny Garcia River City JROTC 68:40
ORANGE (3.5km, 16 controls)
1. Mats Jansson GCO 29:00
2. Thomas Boucher GCO 49:22
3. Glenn Hermanson GCO 55:00
4. Marsha Jacobs GCO 62:45
5. Zachary Kryvoshey Xena Allen, Tanner Hargett, Noah Dias-Quaranta, Seth Palmertree Del Campo JROTC 81:00
6. Mackenzie Brewster, Katie Benson, Andrew Silva, Joe Janson Casa Roble JROTC 82:22
7. Kathy Tegtmeier, Mike Christensen GCO 83:07
8. Team BS Bob Bruns and Sue Lorimer GCO 85:25
9. Jeff, Sophia, Matt Sterett GCO 86:50
10. David Cramer, Chris Foster, Vincent Simons, Javier Trivino Del Campo JROTC 89:40
11. Norbert Wagner, Tamara Andersen GCO 91:50
12. Michael Sokol, Jacob Lester, Carson Law, Trevor Park Del Campo JROTC
Second Course
Wyatt Costa, Samantha Stout, Michael Levchenko 51:53
Marilee and Russell Warner River City JROTC 64:25
Participants:
White: 49
Yellow: 28
Orange: 30
Total: 107
Back to Results