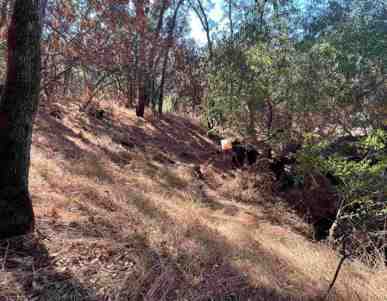 Control 8 on Orange: Bottom of depression
It was a lovely, sunny and not too hot day at Orangevale Community Park for our second fall meet. Among the 54 participants were lots of young people and newcomers, which is alsways fun.
These included the Cason High School JROTC students team that again made the trip all the way from NV just to race with us, as well as and boy scout troops from Grass Valley and other outlying area.
Many took advantage of the little beginner clinics we offered and followed up with really solid performances out on the course, great job!
Newcomers Jennifer Horton and Elizabeth Loneli blasted through the white course in an impressive 24 minutes, the Misty Machine chugged through the yellow course for a solid win in 41:15 minutes, and Will Bell, visiting from Germany, flew throught the Orange course and beat out all the locals to win in 26:50.
Many wanted more and took the advantage of the nice terrain to run a second course, which just shows what a nice venue this is, especially for beginner and intermediate runners.
Complete results in this pdf-file here.
Now for the thank-yous!
Course setter: Nik Weber (who set great courses despite not reallly knowing the area!)
Setup: Danny Lulla and Paul Keeton
Registration: Paul Keeton (X-tra thanks since he didn't even come to run!)
Starts: Ryan Zahner, Danny Lulla & Tim Libell
Finishes: Dwight Freund, Danny Lulla & Ryan Zahner
Control pick up: Rex Winterbottom & Ryan Zahner

A special thanks goes out to Casa Robles JROTC instructor, Lt. Col. Kevin Houdek, who obtained the park permit despite not being able to participate with as many kids as usually due to scheduling conflicts.

We will return on November 5th at Deer Creek Hills just north of Rancho Murieta. This is National Ranking Event with all seven (!) courses. That means there is something for everyone - from the 3 km White beginner course to the 10 km expert Blue course. See you there?

Participants:
Teams: 32
Starts: 37
Runners: 54


/ Jonas Libell, Event Director etc.

Back to Results