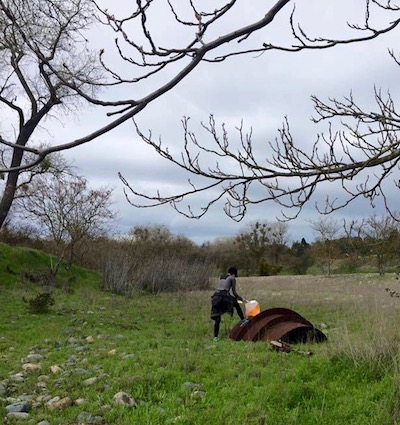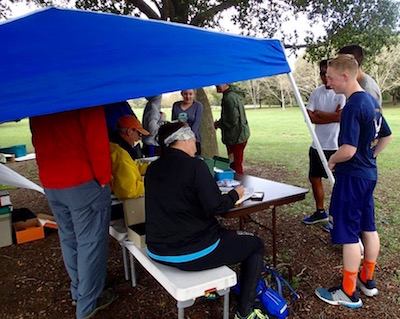 Photos by Kimberly Tullis (top) and Bryce Jensen
Rossmoor Bar
March 12, 2016
By Marsha Jacobs
Event Director
What frightening weather! It was incredibly windy, but that didn't stop the 94 participants who braved the elements to try their luck in the woods at Rossmoor Bar. Although the sky threatened rain all morning, the rains didn't come until after everyone had finished their courses.
Those picking up controls at the end of the day weren't so lucky—it did rain on those wonderful volunteers who expended the energy to go out in the woods again in spite of getting soaked. Kudos to Jennifer Kerr, Frank Slattery, Paul Keeton, Erin Magers and Mats Jansson not only for picking up the controls but also for doing so after having completed the advanced courses! Thanks so much!
Special thanks to our wonderful course setters, Jana Dvorak and Matej Urban, mother-and-son team who recently moved to the Sacramento area from Washington State. They created some interesting courses that seemed to be enjoyed by everyone. We advertised that some of the courses were a little shorter than usual with the idea that this would be a good time for people to try something on a higher level than they've been used to.
First on the White course was Greg Mandler with a speedy time of 13:59. But Greg didn't stop there; after completing his White course, he ran the Yellow, then Orange, and then Brown courses! Unbelievable!
Andrew Killeen was first on the Yellow course with another fast time of 28:07, while his intrepid father Nigel Killeen (age 84!) from South Africa bested the Orange runners with a time of 48:54. Michael and Elisa Chastaine were fastest on Brown at 97:32, and GCO's very own Mats Jansson took first on Red at 51:25. Good job, everyone!
I'd like to thank our many volunteers who made this event possible:
Course setting – Jana Dvorak, Matej Urban
Permits/Insurance – Paul Keeton and the County of Sacramento
Map printing – Bob Cooley
Setup/Teardown – Jonas Libell, Paul Keeton, Norbert Wagner, Mats Jansson, Alan Walls
Registration – Paul Keeton, Erin Magers, Mats Jansson, Teresa Jansson, Doug Lyle
Clinics – Jennifer Kerr
Starts – Norbert Wagner, Ryan Zahner, Jana Dvorak, Luke Walls, Aly Walls, Alan Walls
Finishes – Dave Takacs
Control pickup - Jennifer Kerr, Frank Slattery, Paul Keeton, Erin Magers, and Mats Jansson
Results – Norbert Wagner
Photos - Bryce Jensen
If I have left anyone out, please accept my apologies.
RESULTS
WHITE (1.6km, 9 controls)
1. Greg Mandler, 13:59
2. Sunshine Garcia, Miguel Garcia, Alejandro Quezada, James Larson - JROTC CA-20132, 19:49
3. Luke Walls, GCO, 20:12
4. Alison Weber, GCO, 24:54
5. Shu-Shen Gaby, Justin Mora, Jordan Dungan Goncalves, Christopher Vargas - JROTC CA-20132, 27:16
6. Carmen Gunn, Quetzal Brewster, Megan Keen, 28:03
7. Kaven Vue, Hsiao-Hsien Wang 28:08
8. Brandon Roma - CSUS, 28:41
9. Anthony & Cora Mistry, GCO, 29:13
10. Bryan Crabtree - CSUS, 30:50
11. Varoslav Maliar, Vitalina Pasichnyk - CSUS, 33:00
12. Scavenger Sisters: Annie and Juliann Coronado, 33:09
13. Macho Nachos: Adam Corbett, Andrew Panger - CSUS, 34:21
14. May & Jo-Lyn Xiong, 35:29
15. Daisy's Team 05/16: Daisy Romo, Luis Rodriguez, 36:18
16. Richard Castro - CSUS, 36:59
17. Roman Mukharambek, Teresita Candelas, Hunter Cradit, Gabrielle Dodson - JROTC CA-20132, 41:33
18. Lovely and Marivic Dungca - CSUS, 41:45
19. MaryAnn Gamblin, Haydrien Trahan, Grant Carr, 63:45
20. Sean & David Ranney, 69:50
Ethan Wyant, DNF
Second Course:
Robert and Dalton Goodwin - JROTC CA-20132, DNF
YELLOW (2.5km, 11 controls)
1. Andrew Killeen, 28:07
2. Team TKT: Teresa Jansson, Tammy Mintz, Kim Tullis, GCO, 43:47
3. Harold DeMoss, BAOC, 53:17
4. Lauren Wemmer, GCO, 53:46
5. Aly and Alan Walls, GCO, 54:17
6. Russell Warner, JROTC CA-20132, 58:24
7. Robert and Dalton Goodwin - JROTC CA-20132, 63:54
8. Claire Legendre-Sholl, GCO, 80:54
9. Mandy & Zoe Bryant, 81:47
10. Johanne Christmas, GCO, 110:54
Second Course
Greg Mandler, 24:42
Eric, Ethan and Gregg Wyant, 43:07
Roman Mukharambek, Teresita Candelas, Hunter Cradit, Gabrielle Dodson - JROTC CA-20132, DNF

ORANGE (2.7km, 12 controls)
1. Nigel Killeen, ROC - S Africa, 48:54
2. Randy Christopherson, GCO, 55:36
3. Kathy Tegtmeier, Mike Christensen, GCO, 58:39
4. Rick Garces, Robert Seyfried, Marc Pulido, 63:19
5. Kristen Weber, GCO, 67:37
6. Bryce Jensen, Doug Lyle, 68:05
7. Tina Traxler, GCO, 71:14
Second Course:
Sunshine Garcia, Miguel Garcia, Alejandro Quezada, James Larson - JROTC CA-20132, 47:58
Shu-Shen Gaby, Justin Mora, Jordan Dungan Goncalves, Christopher Vargas - JROTC CA-20132, DNF
Third Course:
Greg Mandler, 52:27
BROWN (3.7km, 14 controls)
1. Michael Chastaine, Elisa Chastaine, 97:32
2. Team BS Speed Unit: Bob Bruns, Sue Lorimer, GCO, 101:56
3. Olga Kraght, BAOC, 109:15
4. Jennifer Kerr, GCO, 110:11
5. David and Wendy Martinenko, Betty McHugh, GCO, 119:25
6. Norbert Wagner, GCO, 125:52
7. Kim Mitchell, Cathleen Grodman, 201:40
Second Course:
Roy Malone, GCO, 36:04
Third Course:
Robert and Dalton Goodwin - JROTC CA-20132, DNF
Fourth Course:
Greg Mandler, DNF
RED (5.4km, 19 controls)
1. Mats Jansson, GCO, 51:25
2. Nik Weber, GCO, 61:25
3. Roy Malone, GCO, 63:49
4. Marie-Josée Parayre, BAOC, 64:34
5. François Leonard, BAOC, 65:16
6. Penny DeMoss, BAOC, 66:40
7. Aron Walker, BAOC, 67:23
8. Greg Ehrensing, BAOC, 74:16
9. Ryan Zahner, GCO, 84:23
10. Frank Slattery, GCO, 121:39
11. Jay Hann, BAOC, 122:55
12. Erin Magers, GCO, 139:09
13. Paul Keeton, GCO, 177:40
Participants:
White: 45
Yellow: 23
Orange: 20
Brown: 16
Red: 13
Total: 94 (not counting second-course runners)
Back to Results