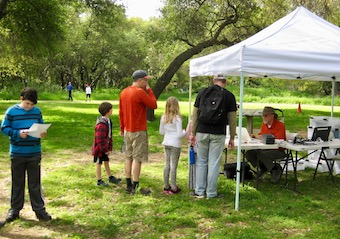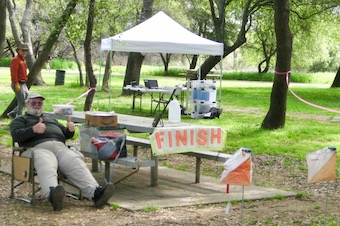 Trying Out E-Punch at Sac Bar
Photos by Mike Christensen
Sacramento Bar
March 19, 2017
By Mike Christensen
Event Director
As predicted, it was a beautiful day in the American River Parkway for our first event of the year. The park is so lush from the recent rains that it was hardly recognizable. We even had a bit more sun than expected. But it wasn't just the first event of the year, it was also our first time using electronic punch (E-Punch) (Editor's Note: We did do E-Punch once years ago for a meet that Jay used as part of the Bay Area Orienteering Club's Junior program; Jay ran the E-Punch).
We had 79 participants running the five courses set by Jonas Libell. Jonas did a truly amazing job, a job made very challenging by our recent rains, which changed the topography of Sacramento Bar not once but twice in the last month. The introduction of E-Punch to our event also generated a lot of excitement. Jay Hann of Western Race Services drove over from the Bay Area to provide all of the equipment, advice and help to make it possible.
On the White course, Greg Mandler once again won with large lead at 36:17. The Yellow course was led by a near tie between the Poland family and the Hannaford family at just over 37 minutes. On the Orange course, Dwight Foyil won at 84:11 followed by Kristin Weber 99 seconds later. Kyle Ketten and George Minarik, both from BAOC, led the pack on the Brown course. And our own Mats Jansson led the Red course by over 15 minutes.
As always, these events are only possible with the help of volunteers. My thanks go out to:
Jonas Libell (Course Setter, Equipment manager, control pickup, tear down)
Marsha Jacobs (ED mentor, Setup, Registration, tear down)
Johanne Christmas (Setup)
Erin Magers (Registration)
Greg Vlasek (Registration)
Jennifer Kerr (Beginners Clinic, website)
Dwight Freund (Starts, finance)
David Takacs (Finish, tear down)
Kathy Tegtmeier (Registration, permits and insurance)
John Warlaumont (Starts)
Alan Walls (Control pickup, tear down)
Mats Jansson (epunch arrangements, control pickup, tear down)
Bill MacDonald (setup)
Mike Christensen(ED, setup, registration, control pickup, tear down)
And all of you who just pitched in where you saw a need!
We hope to see you all at future events. And we really hope you'll consider volunteering! The next two GCO events are Rossmoor Bar on April 9 and California State University, Sacramento, on April 29. And don't miss the next Nav-X event at Camp Tamarancho, Fairfax on April 23. See details and links on our Schedule page.
RESULTS
WHITE (1.9 km, 9 controls)
1. Greg Mandler, Shen Mandler, 36:17
2. Errin Norlie, Zach Norlie, Pack 9, 52:34
3. Johanne Christmas, GCO, 85:04
4. Diana Gudeman, Luella Borris, 112:57
Christian Clayton, Ashley Sedgwick, DNF
Tony Clayton, Gianna Gervais, Jocelyn Gervais, DNF
YELLOW (2.1 km, 9 controls)
1. Kyle Poland, Tavi Poland, GCO, 37:15
2. Michael Hannaford, Aria Hannaford, Audrey Hannaford, 37:19
3. Alison Weber, GCO, 39:25
4. Andrew Killeen, 41:01
5. Mark Kelleher, Michelle Kelleher, Maeghan Kelleher, Myles Kelleher, 43:29
6. Alyson Walls, GCO, 46:15
7. Lauren Wemmer, GCO, 58:02
8. Andrew Mau, Diana Mau, 60:24
9. Tim Libell, Titus Libell, Jonas Libell, GCO, 63:44
10. Ken Roe, GCO, 68:42
11. Kathy Tegtmeier, GCO, 74:18
12. Harold DeMoss, BAOC, 76:50
13. Elisa Chastaine, GCO, 79:25
14. Lindsey Branom, Ramon Ruiz, 90:29
15. M Weiss, 92:17
16. Mila Olson, Lilia Olson, Jenna Olson, Ella Olson, Helen Owens, 95:05
Teresa Jansson, GCO, DNF
Joe VanSickle, , DNF
Yellow 2nd Course:
Greg Mandler, Shen Mandler, 42:44
Kim Schaefer, Noah Schaefer, 104:39
ORANGE (3.3 km, 9 controls)
1. Dwight Foyil, 84:11
2. Kristin Weber, GCO, 85:50
3. Matt Melcher, Lucas Melcher, GCO, 92:06
4. Franklin Yang, AFJROTC, 101:35
5. Kim Schaefer, Noah Schaefer, 110:05
Alyssa Nelson, AFJROTC, DNF
Betty Mchugh, GCO, DNF
Kiarra Lorta, AFJROTC, DNF
Lyca Allian, AFJROTC, DNF
Nigel Kileen, ROC, DNF
Tanvir Singh, AFJROTC, DNF
Judy Koehler, BAOC, DNF
Orange 2nd Course:
Kyle Ketten, BAOC, 41:52
Myles Kelleher, Michelle Kelleher, Maeghan Kelleher, Mark Kelleher, 111:25
BROWN (2.7 km, 10 controls)
1. Kyle Ketten, BAOC, 48:13
2. George Minarik, BAOC, 50:45
3. Brian Michaels, 72:52
4. Marsha Jacobs, GCO, 90:15
5. Team BS Speed Unit, Bob Bruns, Sue Lorimer, GCO, 101:38
6. Jennifer Kerr, GCO, 107:07
7. Leslie Minarik, BAOC, 114:45
RED (4.8 km, 15 controls)
1. Mats Jansson, GCO, 53:55
2. Greg Ehrensing, BAOC, 69:24
3. Nik Weber, GCO, 71:03
4. Steven Duke, GCO, 98:47
5. Penny DeMoss, BAOC, 103:26
6. Jeff Sterett, 104:34
7. Michael Chastaine, GCO, 109:01
8. Frank Slattery, GCO, 119:33
9. Glenn Hermanson, GCO, 124:14
10. Erin Magers, Greg Vlasek, GCO, 143:10
11. Olga Kraght, BAOC, 152:55
Bill MacDonald, DNF
Participants:
White: 12
Yellow: 32 plus four second-coursers
Orange: 14 plus five second-coursers
Brown: 8
Red: 13 Total: 79
Back to Results