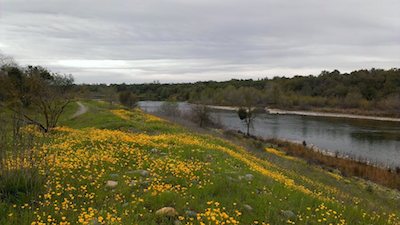 Poppies along the American River
Photo by Craig DeVita
Sailor Bar
March 9, 2014
By Paul Keeton
Event Director
Hello Orienteers!
Some 144 of you showed up at Sailor Bar on the American River to participate in our first Orienteering Meet of 2014. Congratulations to all of you. It was a beautiful day, and everyone had a great time.
Thanks to all of the volunteers, and to Dwight Freund, who set three good courses. John and Arthur Herrick, representing Boy Scout Troop 88, had the fastest time on the White Course, 38:42. GCO's own Marsha Jacobs was the fastest on the Yellow Course, with a time of 59:58. Francois Leonard of BAOC, with a time of 34:52, finished in first place on the Orange Course. There were numerous representatives from the Boy Scouts, and the Rio Linda JROTC also had many cadets. There was even a representative from a Swedish Club!
Our next meet will be on Saturday, April 26, at Sierra College in Rocklin. I hope to see all of you there.
RESULTS
WHITE (3.0 km, 12 controls)
1. John Herrick, Arthur Herrick, Troop 88, 38:42
2. Kyle Poland, Jenk Poland, Tavi Poland, 40:44
3. Cari Courtenmanche, Amber Courtenmanche, 46:01
4. Ann Whitehead, 50:52
5. Trenton Bandy, Ethan Bandy, Troop 88, 52:04
6. Suzanne Koopman, Jon Koopman, Michelle Koopman, Ian Koopman, Troop 645, 53:10
7. Jim Foster, Tara Foster, 59:18
8. Vincent Leonard, Lucas Leonard, Thomas Leonard, Erica Leonard, 62:39
9. Tony Clayton, Christian Clayton, Patricia Clayton, Vencil Brown Elementary, 63:01
10. Heather Snider, William Snider, Jackson Snider, Isaac Snider, 64:41
11. Jacob Rosales, J.P. Johnston, Troop 645, 65:03
12. Tim Libell, Jonas Libell, GCO, 85:52
13. Larry Biasi, Scarlett Justice, 114:14
Jett Chadwick, Rio Linda JROTC, No card, DNF
John Wilusz, DNF
Lezlie Cole, James Cole, Jennah Cole, Jessica Cole, Justin Cole, DNF
Dave Scheufflele, Connor Scheufflele, Jarrett Scheufflele, Troop 88, No start time, DNF
Paw Tracks, DNF
YELLOW (4.4 km, 13 controls)
1. Marsha Jacobs, GCO, 59:58
2. Jennifer Allen, Jordan Allen, Meth Rahaweera, Natalia Allen, Troop 645, 66:18
3. Andrew Killeen, 76:16
4. Nigel Killeen, ROC South Africa, 78:37
5. Harold DeMoss, BAOC, 82:23
6. Victoria Harris, Debra Buckmann, 87:31
7. Ken Roe, Mike Folly, 89:49
8. Craig DeVita, 100:27
9. Matthew Reimer, Rob Lasater, Jake Van Spanje, Jack Lasater, John Reimer, Troop 645, 106:18
10. David Friedman, Josh Friedman, Ally Pelto, Aiden Pelto, Garrett Watkins, Troop 645, 125:52
11. Carol Sodestrom, Carla Corbett, Kim Spitze, GCO, 131:49
12. Diana Mau, Andrew Mau, 162:20
13. Mark Spiller, Chen-nee Chuah, Jane Gu, Annemarie Spiller, Winston Spiller, GCO, 189:19
14. Gene Sandoval, Linda Sandoval, 209:15
Joe Van Sickle, Partner, #9, 11, 12, DNF
2nd Course:
Trenton Bandy, Ethan Bandy, 69:27
John Herrick, Arthur Herrick, 74:48
ORANGE (4.5 km, 15 controls)
1. Francois Leonard, BAOC, 34:52
2. Jeremy DeBons, BAOC, 44:52
3. Graham Brew, BAOC, 45:39
4. Holly Kuestner, 46:17
5. Anders Berkelund, Väsby OK, 47:39
6. Marie-Josee-Parayre, 51:02
7. Greg Ehrensing, BAOC, 54:29
8. Roy Malone, GCO, 54:35
9. Steven Duke, 59:12
10. Gavin Wyatt-Mair, 60:57
11. Christine Brew, BAOC, 61:13
12. Stephen Granger-Bevan, BAOC, 62:27
13. Johanna Merriss, BAOC, 63:16
14. Jeff Thompson, GCO, 65:52
15. Glenn Hermanson, 72:03
16. Anthony Misty, GCO, 74:02
17. Penny DeMoss, BAOC, 77:19
18. Ryan Zahner, Shanna Zahner, GCO, 77:38
19. George Minarik, 78:20
20. Virginia DeBons, BAOC, 79:42
21. Leslie Minarik, 81:51
22. Ed Wirth, Jen Grafe, The Railbirds, 84:43
23. Tamara Anderson, Norbert Wagner, GCO, 87:46
24. Ralph Keith, Denise Ihler, GCO, 95:26
25. Bob Bruns, Sue Lorimer, GCO, Team BS Speed Unit, 98:22
26. Nick Pearce, Andrew Fajardo, Rio Linda JROTC, 109:11
27. Allen Brown, 110:34
28. Adrian Pruneda, Snezhana Shangurova, Marcos Torres, Rio Linda JROTC, 110:51
29. Steven Doyle, Austin Baldwin, Rio Linda JROTC, 111:58
30. Gordon Egan, David Egan, Carly Prahl, 116:57
31. Jennifer Kerr, 119:59
32. Fernando Campos, Edward Angulo, Tre Fuentes, Rio Linda JROTC, 122:47
33. Judy Koehler, BAOC, 123:42
34. Randi Sanchez, Anthony DeSouza, Salvador Sanchez, Rio Linda JROTC, #12, 14, 15, 127:36
35. Tristan Quinteros, Zyray Moffett, Rio Linda JROTC, #13, 14, 142:38
36. Kevin Walker, BAOC, 146:49
37. Ryan Sleeth, Mark Sleeth, Diana Sleeth, Troop 88, 156:27
38. William Murphy, BAOC, 160:01
39. Nancy Lindeman, BAOC, 189:36
Rosemary Johnson, DNF
Nimer Robles, Colt Schleeter, Dustin Lopez, Rio Linda JROTC, #13, 14, DNF
James Hammer, Mario Velasco, Rio Linda JROTC, DNF
Participants:
White: 44
Yellow: 37
Orange: 63
Total: 144
Back to Results