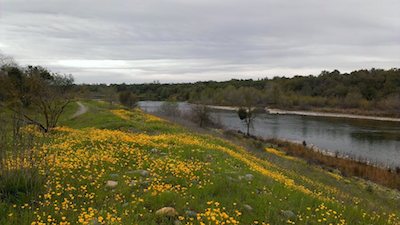 Poppies along the American River
Photo by Craig DeVita
Sailor Bar
May 5, 2018
By Bill MacDonald
Event Director
It was a beautiful morning at Sailor Bar with moderate temperatures and lots of green grass and wildflowers for our hikers and runners to enjoy along the courses!
Three interesting courses were set by Dwight Freund and appreciated by all. The White course had eight entries (including individuals and teams). The Yellow course had nine entries. The Orange course had six entries. There were a total of 23 starts and 48 participants.
A big thank you goes out to Dwight Freund (Course Setter), Jonas Libell, and Ryan Zahner, who volunteered to handle starts from 8:30 to 10 a.m. Quite literally, the meet couldn't have happened without the three of you pitching in.
Thanks to everyone who participated. I enjoyed meeting all of you and sharing a morning together at the river. I look forward to seeing you all at the next meet!
You can find the results here.
Back to Results