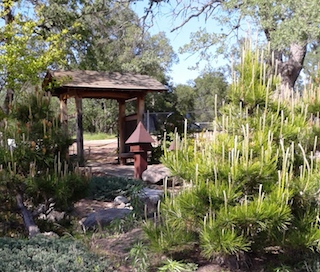 Sierra College
Photo by Marsha Jacobs
Sierra College
April 26, 2014
By Marsha Jacobs
Event Director and Course Setter
About 90 people showed up for GCO's first event on our brand new Sierra College map! The day before the event the weather didn't seem like it wanted to cooperate. We had lots of rain and wind and even some thunder! But on event day the weather was just right and perfect for a run around the campus.
Newcomers Urtzi Iglesias, Barbara Bomfim and James Spence all did very well at their first GCO event. We know we'll be seeing you again soon!
Many thanks to Rex Winterbottom for creating this map. No wonder he did so well on the courses! Thanks also to Joy Pelton Welch at Sierra College, who worked with me to complete all the necessary paperwork so we could use this venue.
Our wonderful helpers at the meet included Dave Takacs, Jennifer Kerr, Paul Keeton, Mats Jansson, Emma Jansson, Teresa Jansson and Norbert Wagner. These are the same people who consistently assist at every meet. We would love it if some of the many other orienteering participants would volunteer to help us at a future event. Special thanks to Jennifer Kerr and Mats Jansson who went out of their way to transfer all the necessary equipment days before the event, and to Mats Jansson for picking up all the controls at the end of the day.
We hope to see you all next month on May 18 at Sacramento Bar!
RESULTS
WHITE (1.3 km, 14 controls)
1. James Spence 22:12
2. Elsa & Bill Voegele 35:18
3. Tony & Christian Clayton, Evan Robertson 36:04
4. Mark & Joan Savarese, Ryan Jolly 38:17
5. Anthony & Kara Mistry 39:21
6. Margaret Kraght 46:53
7. Ray & Jane Carhart 49:40
8. Maya Renhult & Kaitland Sturdevant 57:25
9. Jini & Jordan Jarvis, Tim S. 79:36

YELLOW (2.2 km, 19 controls)
1. Annaka Reeb, Anthony Mastropien, Chloe Foster, Lauryn Andrews, Carmen Gunn 34:40
2. Lola Rain & Jacob McKee 37:49
3. Sean Flores & Carol Sodestrom 47:45
4. Alan & Lucas & Alyson Walls 48:24
5. Sydne Long, Jonah Gunn, Olivia Truka, Bella Thompson 50:39
6. Grant Phillippi, Alex Johnson, Loncon Deutsch, Austin Fayth 51:33
7. Ken Roe & Mike Folly 70:14
8. Robert, Nicole, Malia, Jack Lapanja 74:05
9. Roger & Sean Noelle, James Rairdon 87:15
10. Julie Vidinha 102:52
Kristopher Meyer MP #7 (55:57)
Jamie West & Carla Corbett MP #14 (56:12)
Ann Whitehead MP #2,7,18 (42:57)
YELLOW 2nd COURSE:
Rex Winterbottom 12:50

ORANGE (2.5 km, 24 controls)
1. Rex Winterbottom 16:06
2. Anna Voegele 21:10
3. Paul Carson 22:26
4. Kyle Poland 28:03
5. Jay Vidinha 28:14
6. Gary Kraght 28:19
7. Bill Voegele 32:51
8. Frank Slattery 33:36
9. Tom Boucher 38:23
10. Olga Kraght 38:37
11. Steven Duke 38:44
12. Bob Bruns & Sue Lorimer 46:17
13. Mike Christensen & Kathy Tegtmeier 47:02
14. Norbert Wagner 51:12
15. Claire Legendre-Sholl & Dan Sholl 57:54
16. Jeff, Matt, Sophia Sterett 62:21
17. Sonja Renhult & Cori Kirkendall 64:30
Mats Jansson MP #8 (24:29)
Rosemary Johnson MP #19,22 (47:13)
Sherry Timmerman MP #19,22 (55:39)
Robert & Ethan Motts, Betty Cho MP #19 (56:54)
Allen Brown MP #6,19 (78:46)
ORANGE 2nd COURSE:
Urtzi Iglesias 15:17
James Spence 71:25
Ann Whitehead MP #19 (65:59)
SCRAMBLE (42 controls; all participants found all)
1. Urtzi Iglesias 22:50
2. Barbara Bomfim 40:41
3. Jennifer Kerr 52:06
4. Tamara Anderson & Norbert Wagner 62:56
5. Paul Keeton 68:07
6. Art Livingston 75:25
7. Elena Estevez 76:46
SCRAMBLE 2nd COURSE:
Frank Slattery 38:12
Participants:
White: 19
Yellow: 35
Orange: 33
Scramble: 9
Total: 89
Back to Results