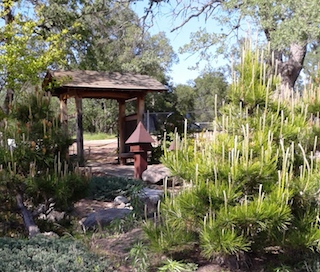 Sierra College
Photo by Marsha Jacobs
Sierra College
May 15, 2016
By Marsha Jacobs
Event Director and Course Setter
For the first time this year, the weather cooperated at a GCO event. The sun came out, the wind died down, and the temperature was fairly cool and comfortable at the start of the day.
Although the turnout was a little lower than at most of our events, everyone seemed to enjoy the courses.
The winners on all the courses were newcomers! Travis McCleary blasted his way through the White course, beating out the usually first-place speedy Greg Mandler. Chris Paluch (BAOC) bested the other Yellow competitors, Scout Team 386 father-and-son duo Matt and Lucas Melcher sped to first place on the Orange course, and Jeremy Olson found all 44 controls on the Scramble in the fastest recorded time. Also capturing all 44 controls on the Scramble was the team of Mila Olson and Jennifer Cabrera.
Thanks to the hard-working team of volunteers for this event: Jonas Libell, Jennifer Kerr, Norbert Wagner, Kathy Tegtmeier, Mike Christensen, Randy Christopherson, and Danny Lulla. Also much appreciated are Bob Cooley for map printing, Amanda Mellett of Sierra College for the permit, Dwight Freund for map updates, and Mats Jansson for organizing the online registration process.
We hope to see you all in the Fall at our next GCO event!
RESULTS
WHITE (1.7 km, 16 controls)
1 Travis McCleary 16:49
2 Greg Mandler 25:59
3 Team GS433: Alexis, Katy, Kailyn, Debbie, GCO 29:27
4 Vince, Christen, Alex Loschiavo 34:15
5 Nathan Little, CSUS 37:05
6 Tina Traxler, Susan Rutherford, GCO 42:42
7 Team GS433-2 Jillian, Natalie, Piper, Steve 46:10
8 Team Trapps: Michael & Sophia Trapp 49:52
9 Team Brick: Nick Adkins, Briana Ferri 53:16
10 Team Carpark: Kristi Cargill, Ann Marie & Jason & Natalie Park, GCO 53:31
YELLOW (2.2 km, 22 controls)
1 Chris Paluch, BAOC 40:43
2 Danny Lulla, GCO 65:19
3 Kenneth Bogle, BAOC 86:32
4 Titus, Tim, Jonas Libell, GCO 90:21
5 Nayan & Alka Pradhan 91:15
YELLOW 2nd COURSE:
Greg Mandler 35:57
ORANGE (2.4 km, 24 controls)
1 Scout Team 386: Matt & Lucas Melcher 35:34
2 Tom Boucher 38:44
3 Kyle Ketten, BAOC 44:34
4 Team CHS Ingram: Daniel & Leanne Ingram, BAOC 45:40
5 Kathy Tegtmeier & Mike Christensen, GCO 48:02
6 Team BS Speed Unit: Bob Bruns & Sue Lorimer 50:20
7 Heidi Crosbie & Randy Christopherson, GCO 55:39
8 Daniel Roberts, GCO 61:25
9 Briana Sanchez, BAOC 62:15
10 Justin & Nicole Lytle, Ryan & Hett Funk 63:45
11 Courtney Green, BAOC 69:05
Jacob Weaver, BAOC MSP #15
ORANGE 3rd COURSE:
Greg Mandler 72:11
SCRAMBLE (44 controls)
1 Jeremy Olson 890 36:14
2 Mila Olson, Jennifer Cabrera 890 44:08
3 Norbert Wagner, GCO 830 57:01
4 Jennifer Kerr, GCO 730 54:45
5 Judy Koehler, BAOC 290 59:03
Participants:
White: 24
Yellow: 9
Orange: 21
Scramble: 6
Total: 58
Back to Results