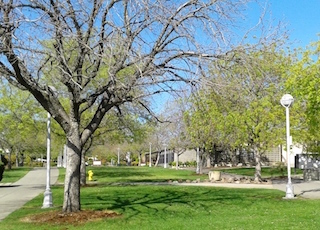 The Sierra College Campus
Sierra College
Opened in 1962, the 311-acre Rocklin Campus of Sierra College is nestled in the Sierra Nevada foothills minutes from Sacramento along Interstate 80. The campus is located in South Placer County, one of the most rapidly growing areas in California.
More than 50 buildings dot the campus, ranging from classrooms to technology laboratories to student centers. The four-story Learning Resources Center is the most visible structure. The Standing Guard Memorial Garden is a highlight. This Japanese-style garden was built in remembrance of Placer County Japanese Americans who were interned during World War II and to honor Japanese American veterans. The Sierra College Natural History Museum has one of the most extensive regional collections of natural history and scientific displays.
Campus nature trails wind through 70 acres of local foothill oak woodland and the streamside communities along Secret Ravine. Visitors may refresh their spirits by observing birds; enjoying the sounds of a babbling brook; hearing the rustling of the wind; and spotting local animal life. The trail's vernal pools include those made from 19th century gold excavation sites in the northeastern portion of the campus, and a man-made demonstration pool near the cactus and rock garden of Sewell Hall.
The Sierra College West Arboretum maintains a living collection of Californian native plant specimens and the East Arboretum hosts a wider variety of horticultural and worldwide species.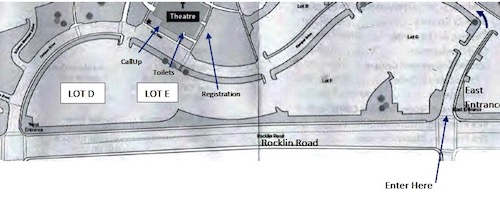 Parking and the Assembly Area
Directions: Coming from the Sacramento area, take I-80 heading east past Roseville to the Rocklin Road exit, going right (east) for about a half-mile to the campus East Entrance (left turn). Upon entering campus, turn left on Campus Drive and proceed a short distance to the entrance to the parking areas (lots D and E), directly opposite the Theatre building. The assembly area is directly to the east of this building. You will need to pay $3 for the privilege of parking; the solar-powered dispensers now take credit cards and cash ($1 bills only).
Coming from the east on I-80, take the Sierra College exit, proceed south about a mile to Rocklin Road, turn right onto Rocklin Road and proceed along the southern edge of the campus to the first traffic signal, which is the East Entrance and where you will turn right. See above for parking instructions.
Some orienteers may choose to take the scenic route from the south: Hazel Avenue, which intersects US-50, eventually morphs into Sierra College Boulevard, and many miles later intersects Rocklin Road at the College. Turn left onto Rocklin Road and continue along the southern edge of the campus to the East Entrance where you will turn right into the campus. See above for parking instructions.
Here is a link to a campus map showing the parking areas.
---
Here is the Sierra College website.
A Yahoo map to the college is here.
Back to Sites